Scientific Name:
Calyptorhynchus funereus
Common Name:
Yellow-Tailed Black Cockatoo
Order:
Psittaciformes
Family:
Cacatuidae
Distribution:
Found in south-eastern Australia, from Eyre Peninsula, South Australia to south and central eastern Queensland.
Habitat:
A variety of habitat types, but favours eucalypt woodland and pine plantations.
Field Notes:
The Yellow-tailed Black Cockatoo is 55–65 cm in length and 750–900 grams in weight. It has a short mobile crest on the top of its head, and the plumage is mostly brownish-black with paler feather-margins in the neck, nape, and wings, and pale yellow bands in the tail feathers. The male Yellow-tailed Black Cockatoo has a black bill, a dull yellow patch behind each eye, and pinkish or reddish eye-rings. The female has grey eye-rings, a horn-coloured bill, and brighter and more clearly defined yellow cheek-patches. Immature birds have duller plumage overall, a horn-coloured bill, and grey eye-rings.
Yellow-tailed Black Cockatoos are diurnal, raucous and noisy, and are often heard before being seen. They make long journeys by flying at a considerable height while calling to each other, and they are often seen flying high overhead in pairs, or trios comprising a pair and their young, or small groups. Outside of the breeding season in autumn or winter they may coalesce into flocks of a hundred birds or more, while family interactions between pairs or trios are maintained. They are generally wary birds, although they can be less shy in urban and suburban areas. They generally keep to trees, only coming to ground level to inspect fallen pine or banksia cones or to drink. Flight is fluid and has been described as "lazy", with deep, slow wingbeats.
The diet of the Yellow-tailed Black Cockatoo is varied and available from a range of habitats within its distribution, which reduces their vulnerability to degradation or change in habitat. Much of the diet comprises seeds of native trees, particularly she-oaks (Allocasuarina and Casuarina, including A. torulosa and A. verticillata), but also Eucalyptus (including E. maculata flowers and E. nitida seeds), Acacia (including gum exudate and galls), Banksia (including the green seed pods and seeds of B. serrata, B. integrifolia, and B. marginata), and Hakea species (including H. gibbosa, H. rugosa, H. nodosa, H. sericea, H. cycloptera, and H. dactyloides). They are also partial to pine cones in plantations of the introduced Pinus radiata and to other introduced trees, including Cupressus torulosa, Betula pendula and the buds of elm Ulmus species.
The Yellow-tailed Black Cockatoo is very fond of the larvae of tree-boring beetles, such as the longhorn beetle (Tryphocaria acanthocera), and cossid moth (Xyleutes boisduvali). The birds seek them out all year but especially in June and July, when the moth caterpillars are largest, and they are accompanied by their just fledged young. They search out holes and make some exploratory bites looking for larvae. If successful, they peel and tear down a strip of bark to make a perch for themselves before continuing to gouge and excavate the larvae, which have deeply tunneled into the heartwood.
From Corin's thread (see refs below)
"It is not uncommon to see evidence of yellow tail black cockatoo presence. Normally in the form of Trees that have been ripped apart, as if somebody has used a small axe on them. Often the damage is several meters up the trunk. at the base of the hole in the trunk you can normally see where an insect Larvae normally of the Longicorn Beetle, has been removed from its tunnel in the trunk. the Cockatoos have very keen hearing, and when they hear the borers in the trunk they use their powerful beaks to rip into the tree and get a tasty meal."
For both bushies and Indig. people the presence of black cockatoos indicates coming rain. Usually the amount of birds determines how many wet days. Yet to be scientifically proven, but you never know.
Feeding on a radiata pinecone
Digging for larvae - note the first attempt on the near side of the acacia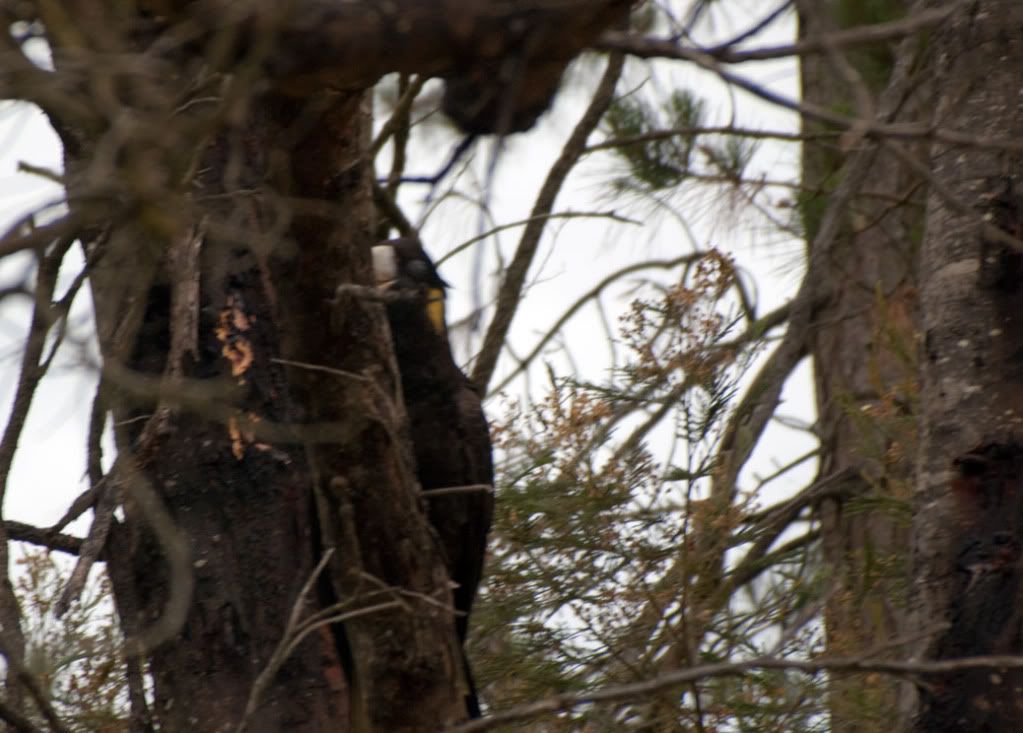 Immature Female Yellow-Tailed Black Cockatoo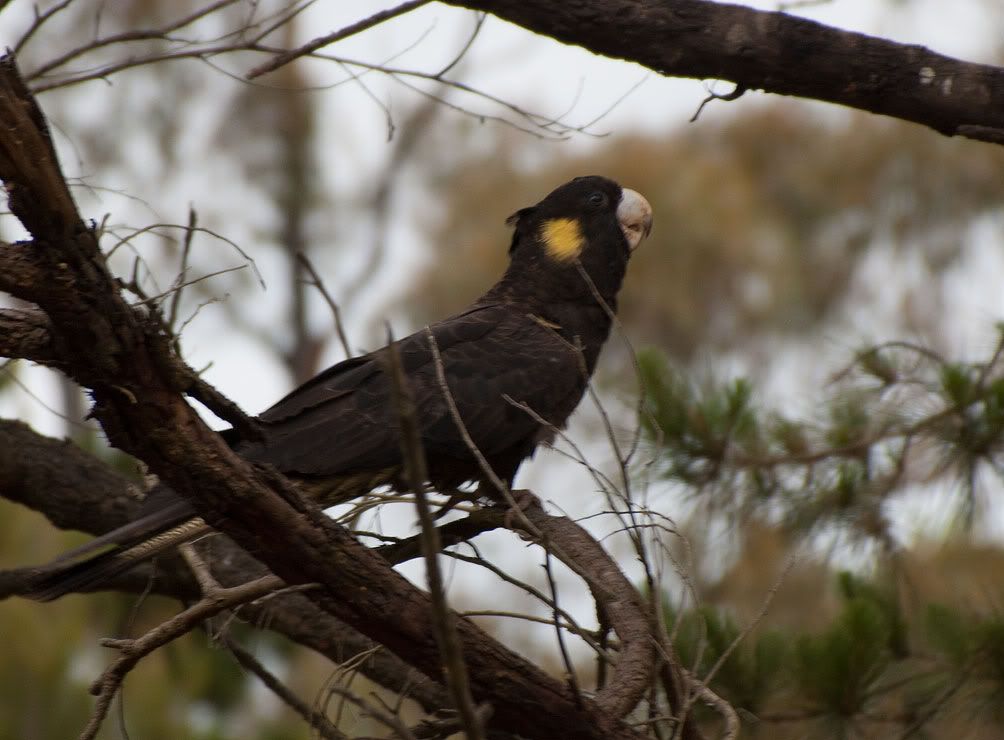 Chewing on a little acacia gum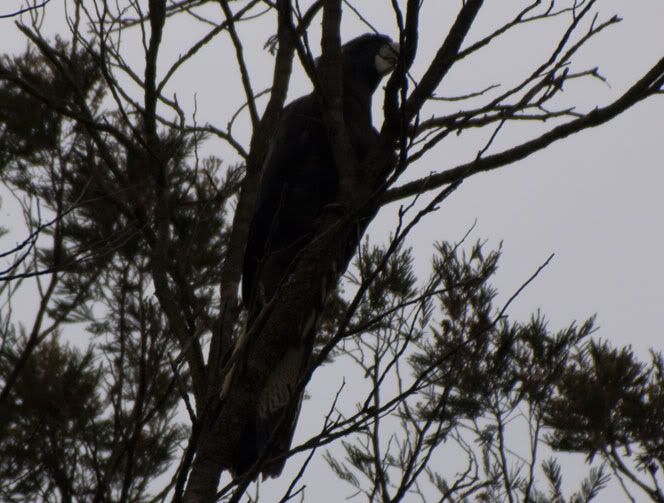 References:
http://bushcraftoz.com/forums/showthread.php?1064-Yellow-Tail-Black-Cockatoo
- Corin's post on signs made by the Yellow-Tailed Black Cockatoo
http://birdsinbackyards.net/species/Calyptorhynchus-funereus
- Birds in Backyards page on the Yellow-Tailed Black Cockatoo
http://en.wikipedia.org/wiki/Yellow-tailed_Black_Cockatoo
- Wikipedia entry for the Yellow-Tailed Black Cockatoo
Last edited: