Nest In the Hills
Staff member
Administrator
Joined

May 2, 2011
Messages

3,686
Reaction score

292
Location
Hey guys and girls. Here is another old Go Camping Australia article. This one on simple tech free bush navigation techniques. This one is probably pretty basic for you all and you probably know most of this but Ill post it up for posterity's sake and I made a few diagrams and images which may help explain the concepts for newer readers. Also if all that fails there is a good yarn in there that my dad told me once when he was lost in the bush which is always a good one for a laugh.
---------------------------------------
Tech Free Bush Navigation
It goes without saying that traveling in remote and unknown country without a map and compass is a bad idea. Even a short stroll from a vehicle or camp in dense terrain can lead to someone being quickly lost even with safety only being a clearing away. Prevention is better than cure in these cases and if you are wandering from a known point then maintaining line of sight contact with your car or campsite should be the first thing on your mind. In desert areas or flat terrain with little trees the risks of this are reduced, however dense bushland and undulating terrain should be treated as a warning that extra care must be taken.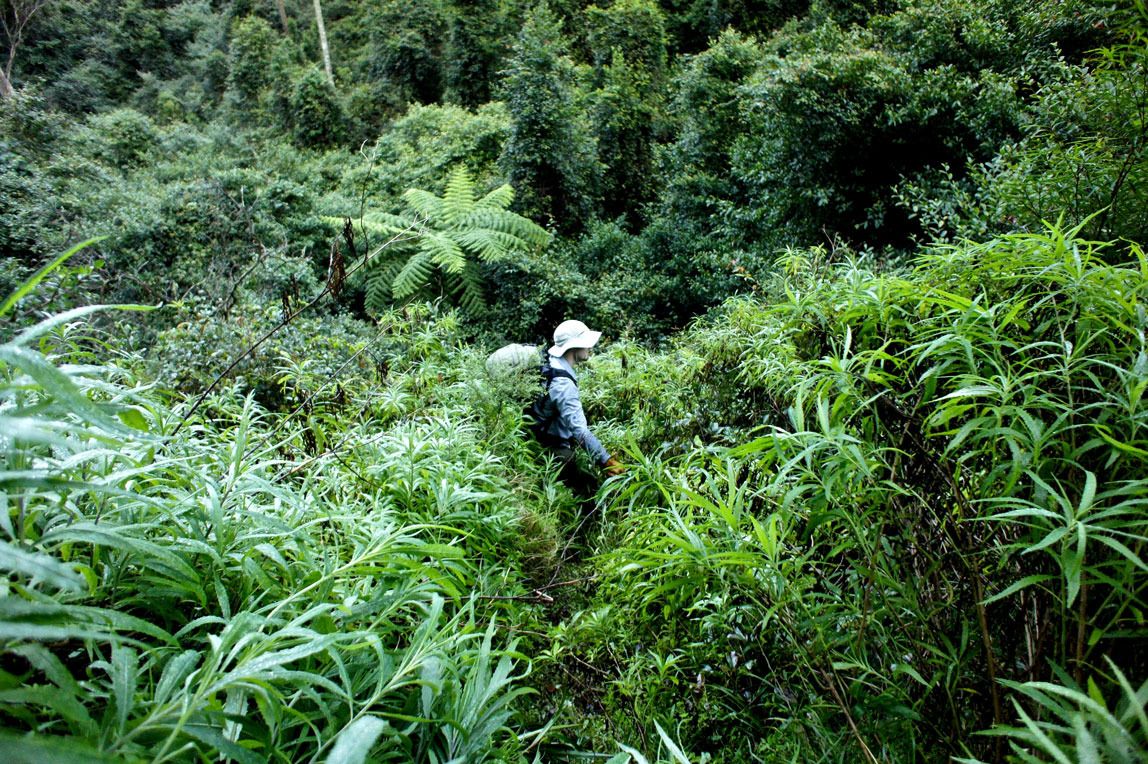 Our very own Wentworth leading the way, navigating off track, descending down to the banks of the Kowmung river, Blue Mountains NSW. Thick terrain like this can be hard to navigate even with a good toppo map and gps (which can struggle to get a fix in dense terrain or low valleys).
Often times I enjoy a bit of wander away from camp to observe wildlife or see what local plants are to be found in the area. Its not a bad idea at all to carry with you a simple day pack or even a belt pouch with some essential items. At the very least it is fair to say that a water bottle, compass, knife, lighter, and topographic map of the area would be infinitely more beneficial than nothing at all. An emergency location device such as an EPIRB (Emergency Position Indicating Radio Beacon) is another invaluable item to carry if you have a tendency for going walkabout. A handheld GPS is also an obvious inclusion but should not be considered your only navigation tool. GPS is known to be unreliable in areas of thick scrub or steep terrain, have limited battery life and as with most modern technology can break or malfunction, usually when you need it most.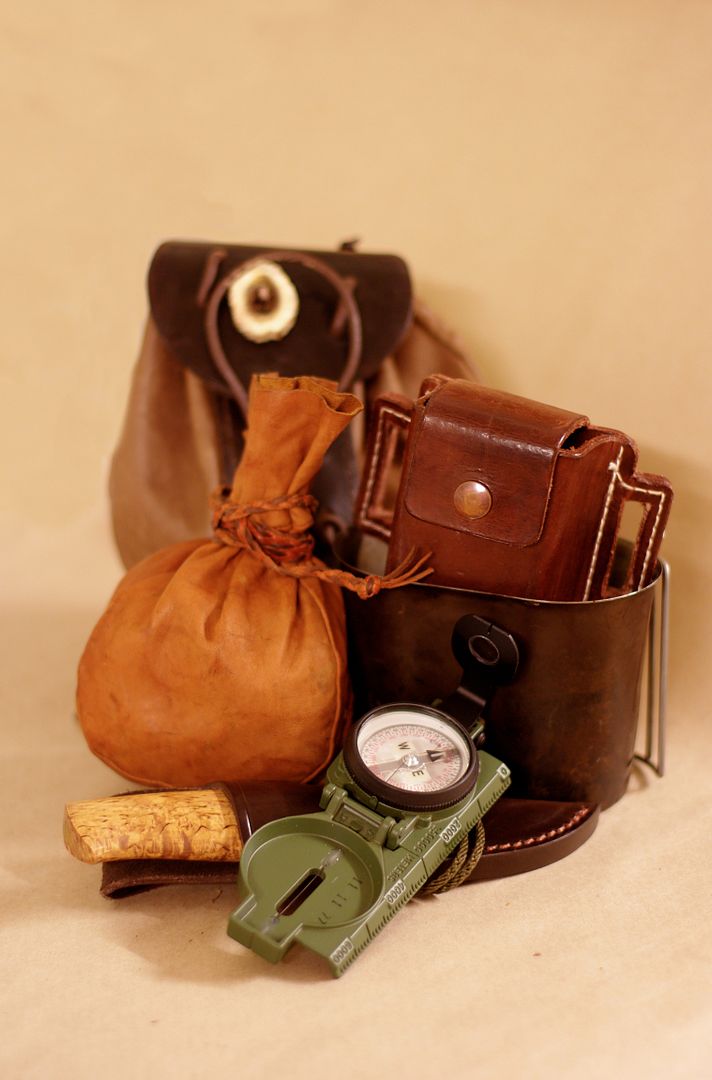 A low tech belt pouch. This is usually a minimum of what I would carry if I go for a half day wander. back to front: Possibles Pouch (Howling Dingo), Canteen Cup, Compass Belt Pouch (DIY), Kangaroo Leather Brew Pouch (DIY), Bushcraft Knife & Sheath, Cammenga Tritium Lensatic Compass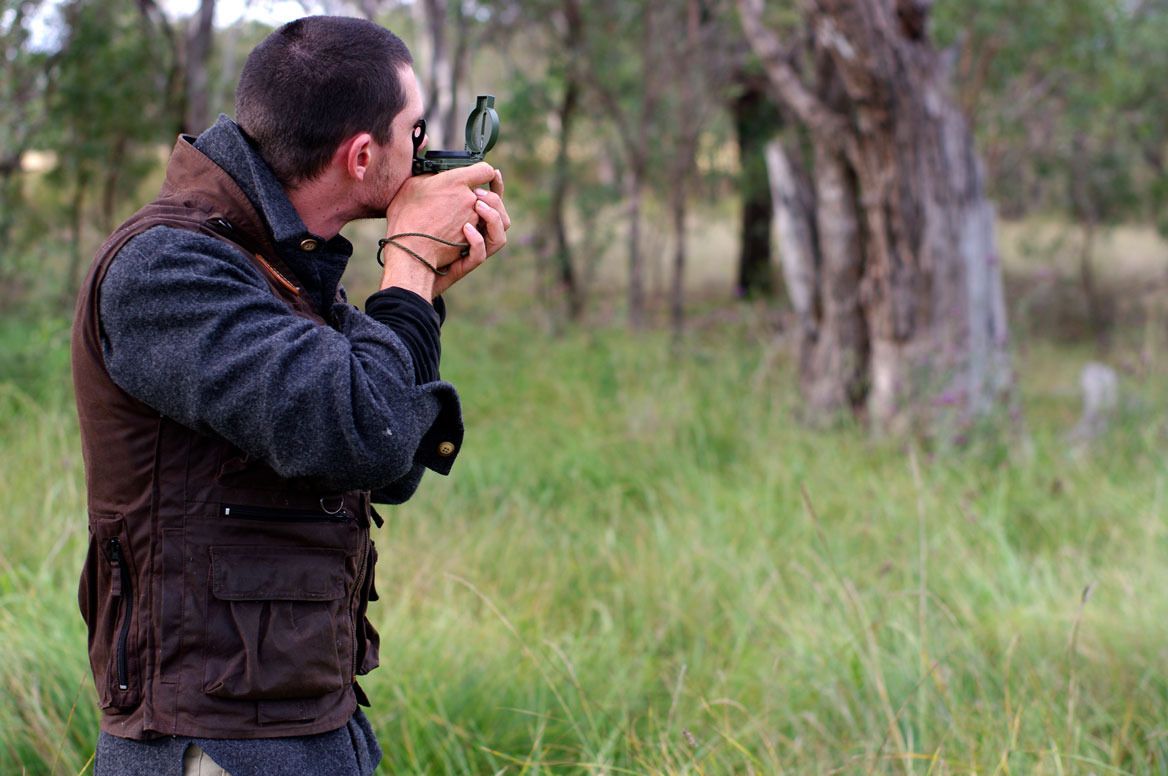 A good quality, reliable sighting compass is useful where long range landmarks are visible but is less convenient if trying to navigate quickly in dense terrain. I find a simple silva baseplate compass best for this.
Arguably your greatest weapon in primitive navigation is free and weighs nothing at all, thinking. It is a very alarming moment when one realises that they are genuinely lost. The body initiates the fight-or-flight response, adrenaline rises, heart beat accelerates, digestion slows and vision narrows. Not all bad if your fighting a lion but if you are lost in the bush, well, you pretty much panic.
Fighting of the urge to panic and thinking analytically about your situation is undoubtedly the best move one can make during this time. Believe it or not stopping for cup of tea is an excellent idea at this point. Stop, sit down and have a cup of tea. This re-associates the person lost with a familiar task, allows the feeling of panic to subside and gives them time to stop and think.
I was once told a story by my father of when he was a teenager. He and a group of friends were camping and decided to go for a walk down to a river they knew was nearby. They set off deep in boyish conversation walking down a nearby hill, following the river they then continued up a side tributary until they figured it was getting late and time to head back. A member of the group suggested a "short cut" back to the camp and as you would imagine it wasn't long before they were hopelessly lost. Boys being boys in the 70's they sat down and smoked a pack of cigarettes.
Strangely enough it was this action which probably got them back safely. They soon realised, rather than playing the blame game and wandering aimlessly that if they could relocate the tributary they would be able establish the direction of the water. This would indicate the direction to the river where they could relocate the hill which they walked down. As my father humorously sums it up, "We got back to camp safely but I ended up smoking for the next 20 years", so probably best to stick to the tea!
Be observant, survey the area of your camp before leaving on a bushwalk and note distinguishing terrain features which might be visible from some distance. Permanent features such as rivers, streams, rock formations, walking tracks and mountains are all good reference points which can be collated to help you isolate your position. If you are in doubt don't make the situation worse. Stay where you are, initiate any distress beacons, make a signal fire, improve you visibility however possible.
It goes without saying that there is no substitute for a good quality compass when plodding your way through the bush but with a little bit of theory and some clever techniques, hope is not lost. Here are some reliable, low tech ways of establishing a basic direction with little or no equipment.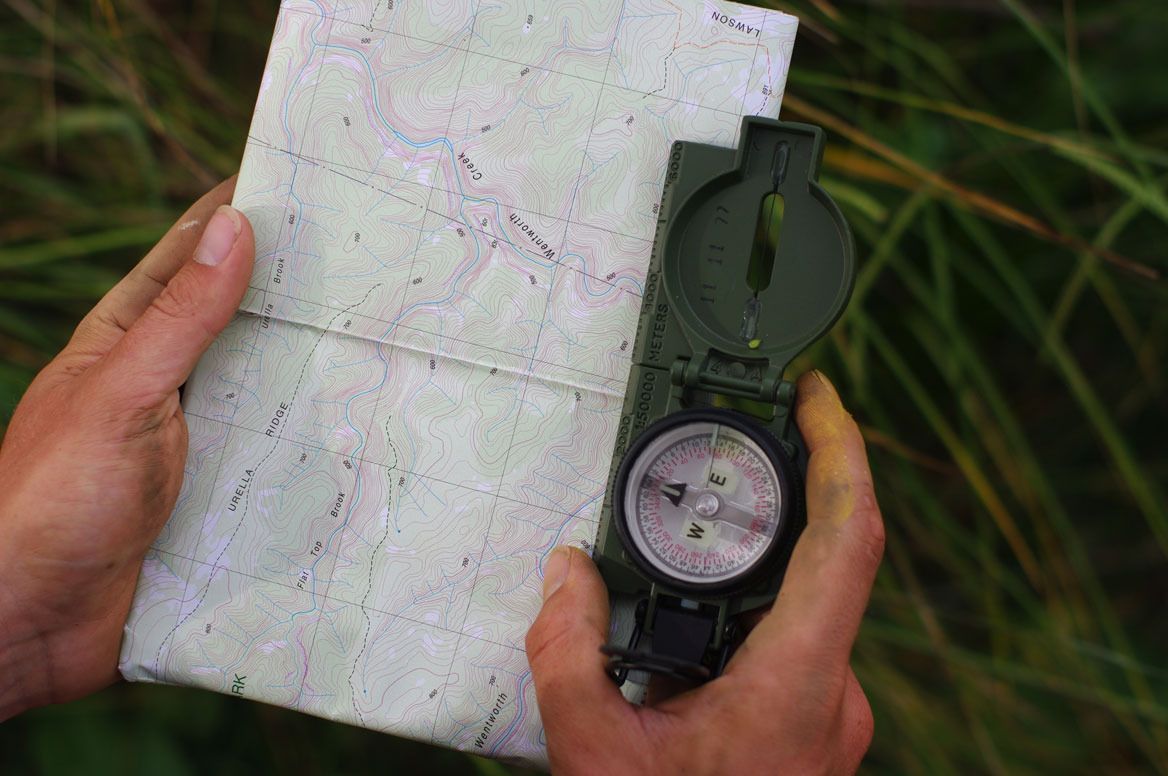 After a knife or maybe an EPIRB the good old map and compass is the best thing to have in your pack. I usually carry two compasses. Pictures here is a Cammenga Lensatic Compass. I also Carry a Silva Explorer.
Shadow Stick Compass
Drive a straight stick into flat level ground and mark the endpoint of its shadow with a rock.
Wait 15 minutes and mark this position with another rock.
Imagine a straight line between these two points. This represents an approximate East, West line.
Standing with your left foot on the first point and your right foot on the second point will have you facing a general northerly direction.
For extra accuracy:
Mark the shadow multiple times over the course of an hour or two. During the morning hours the shadow will shorten until the sun reaches its highest point (zenith) at midday. In the afternoon the shadow will lengthen again. The point at which the shadow is at its shortest will give a reasonably accurate north south line.
Wrist Watch
Point the twelve o'clock mark of your wrist watch in the direction of the sun or one o'clock if you are on daylight savings time. The difference between this position and the hour hand will be an approximate north south line.
If you have a digital watch then simply draw an analog watch in the dirt and set its time to the reading on your watch.
The Southern Cross
With a clear night sky the southern cross should be burning brightly. If you are having trouble confirming the southern cross is what you are looking at then it should be about the width of three fingers held at arms length. Alternatively you can confirm this by locating Alpha and Beta Centauri, two bright starts underneath the constellation. They are also known as 'The Pointers'' because if you draw a line between the two of them they will point to the southern cross.
There are three primary methods for locating south using the southern cross and they all rely on finding a point in the sky known as the 'south celestial pole'.
The easiest method is to imagine a line running directly down the centre of the cross and toward the horizon. Measure a distance along this line 5 times the length of the cross using your fingers. This point in the sky is the south celestial pole and will lead you south.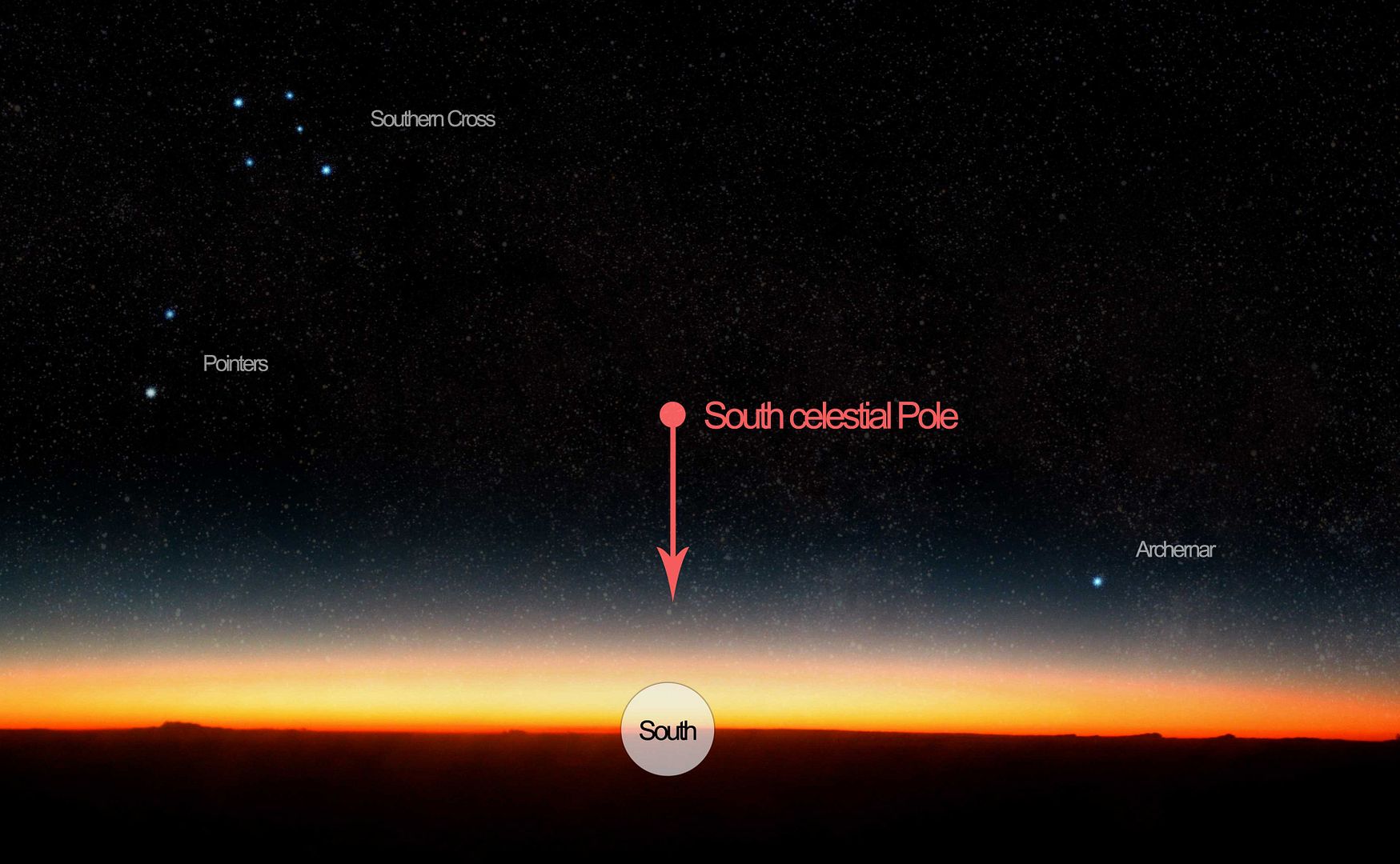 Usually halfway between Achernar and the point of the SC is also the SCP. Archernar is a very bright star but if you are an eastern seaborder it can often be hard to see as it sits low to the horizon meaning it it sometimes/often obscured by the landscape so its handy to know other ways to locate the South Celestial Pole.
Magnetic Termites
If you happen to have the unique privilege of becoming lost in Linchfield National Park then the local termites have already done the hard work for you. The "Magnetic Termite" (Amitermes meridionalis) is found within a reasonably small area around in the Northern Territory and produce a beautifully narrow and amazingly accurate north-south facing mound. The generally accepted theory is that they do this to capture maximum sunlight and maintain a thermo regulated mound, moving from one side to the other and retreating to the warm centre during the cold nights.
-------------------------------------
Quick note:
Any new readers reading this should see this information as advice. Bushwalking, bushcraft and exploring our amazing landscape, like anything in life can land you in the wrong situation but if you are prepared and knowledgable about navigation then you are never in any real danger of being lost. I mention this because I truly believe that nature is an ally not something to combat against, despite what might generate ratings or sell books. I just wanted to say this because I wanted this to be seen as some ways that mother nature has our back rather than an obstacle to overcome.
When I started BushcraftOz I knew little about navigation. I owe a large majority of my knowledge from first hand observation and learning from other members like Wentworth and Corin in particular. I would highly recommend that members learn from others and from reading books. Practice in areas you know well and then take small steps into more complex terrain and ALWAYS ALWAYS ALWAYS leave a trip plan with at LEAST 2 trusted family members or friends. Its a bit of pain but is a terrific habit to get into.
Please feel free to share your advice, experiences and corrections below.
Last edited: