Nest In the Hills
Staff member
Administrator
Joined

May 2, 2011
Messages

3,699
Reaction score

314
Location
I like oil skin for the bush, Its hard wearing, long lasting, easy to maintain in the field and if done properly can be pretty much 100% waterproof. I say pretty much because the fabric itself isn't really waterproof, as we know its the oils in the fabric which disperse the water. This means it needs to be maintained every year or couple of years depending on how much its used. The oilskin re-proofer you buy in the stores are usually paraffin or beeswax based products. A tiny bottle of RM Williams re-proofer for example will set you back about $25-30. Today I'm going to show you how to make five times as much re-proofer for less cost which is twice as good. Sound good? Read on.
Sydney basin has been battered by rain the last few months. I haven't seen the sun for what feels like weeks. This means the trusty oilskin has been getting a full on workout. Finally she started to show signs of struggling with the down pour. The first things you will notice is the fabric beginning to noticeably darken and collect water or look damp after it gets wet. The water will stop beading of the surface. The other sign is, well, your getting wet. The great thing about oilskin is if you have a good quality oilskin they go and go and its not hard to bring it back to its former glory.
Disclaimer:
I wouldn't suggest doing this on anything other than your bog standard brown or black oilskins. This is what I have done to MY particular oilskin. The fabrics and treatments change depending on the product. Please do you own research before ruining an expensive bit of gear.
Here is what you will need. The ingredients below will make enough for 3 or 4 jackets or a couple of full length oilskins. Just scale up or down for your own use.
500ml of raw linseed oil
250gm of beeswax or paraffin wax
(beeswax is best so if you can get that, use it)
50ml of mineral turpentine
A pirex bowl, tin
Optional:
A fragrant oil of some kind.
Orange oil is nice. This just makes the garment smell better but I don't bother, I think it smells nice as is and this is probably more important if your working around thinks like fuel etc.
Some pine tar
This is supposed to soften the mix so its not as stiff but I've never used it nor could I get my hands on it. I don't know the ratio but about 100ml for this mix would be ok.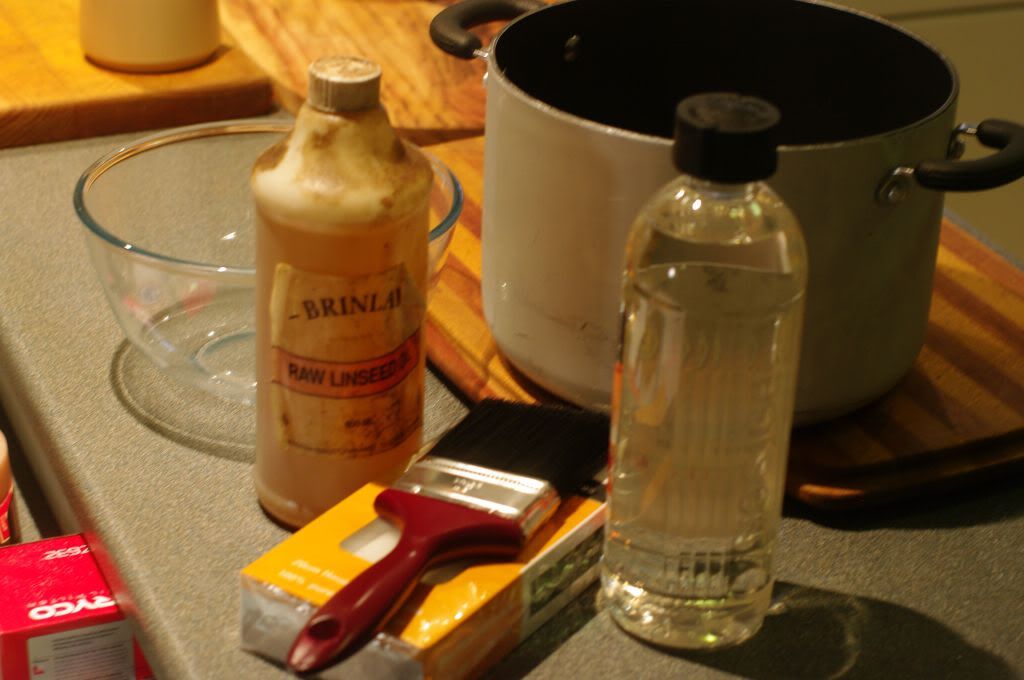 You have probably realized by now this isn't an exact science but those amount will get you started. Add more wax for a more waterproof garment but stiffer, less for a softer but less water proof garment. The mix I listed makes something in the middle.
Get a pot of water on the heat and suspend your bowl in the water. We are going to melt the wax down first. The same technique used to melt chocolate.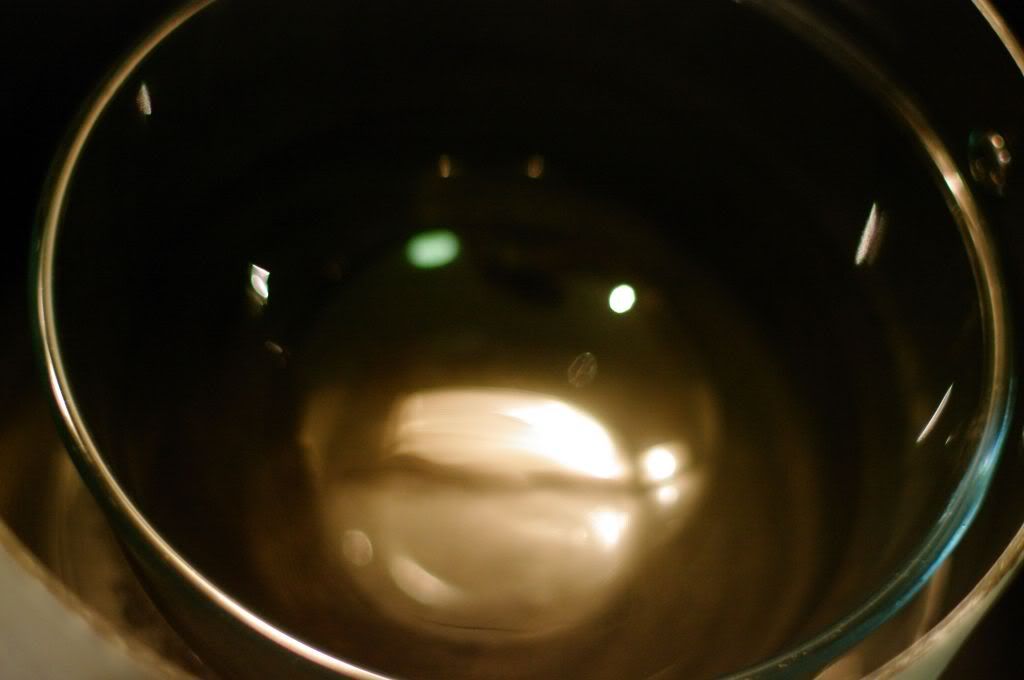 I went looking for beeswax. Went to a local surfboard maker but he had none. He said try franklins, look for furniture polish. Couldnt find that. If your in a rural area find your local bee keeper and get some of the good stuff. If only I did this up at the property at mudgee. So I went to the local cheap charlie store and got a pack of 100% paraffin wax candles. This was $2 and I only needed half the pack. Keep the rest or other bushcraft tasks.
Make sure its 100% and not coloured or scented unless you want a pink rose smelling oil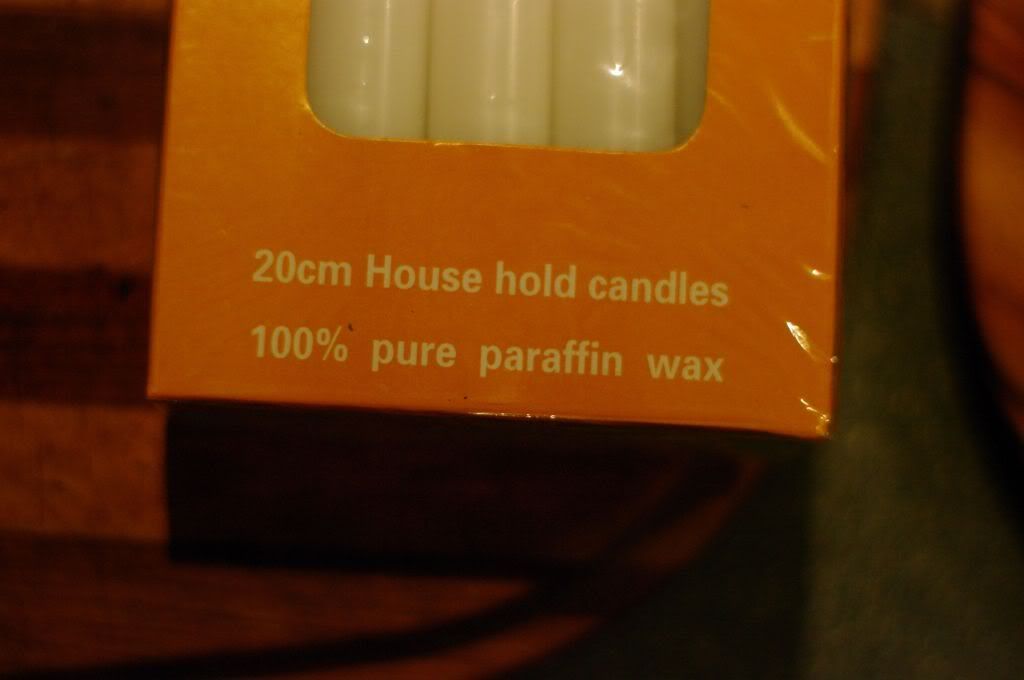 Break the wax up and shave it up a bit to help it melt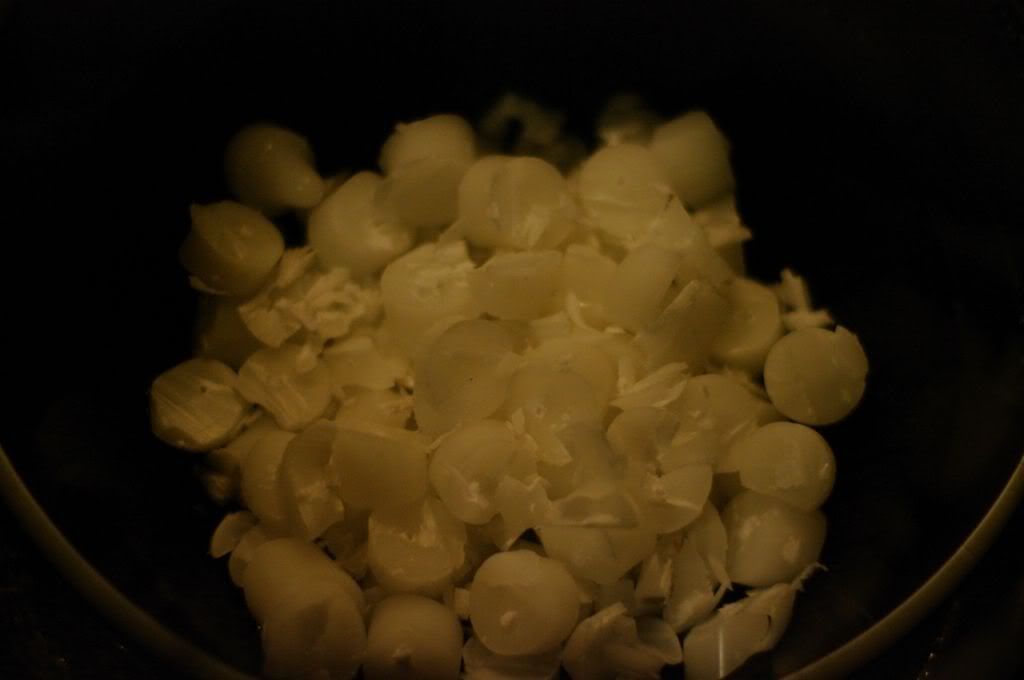 Keep it moving until it melts completely, go easy
I don't bother to remove the wicks, they wont do any harm. Just pick em out if you are really concerned but they get left behind when you empty it into a container.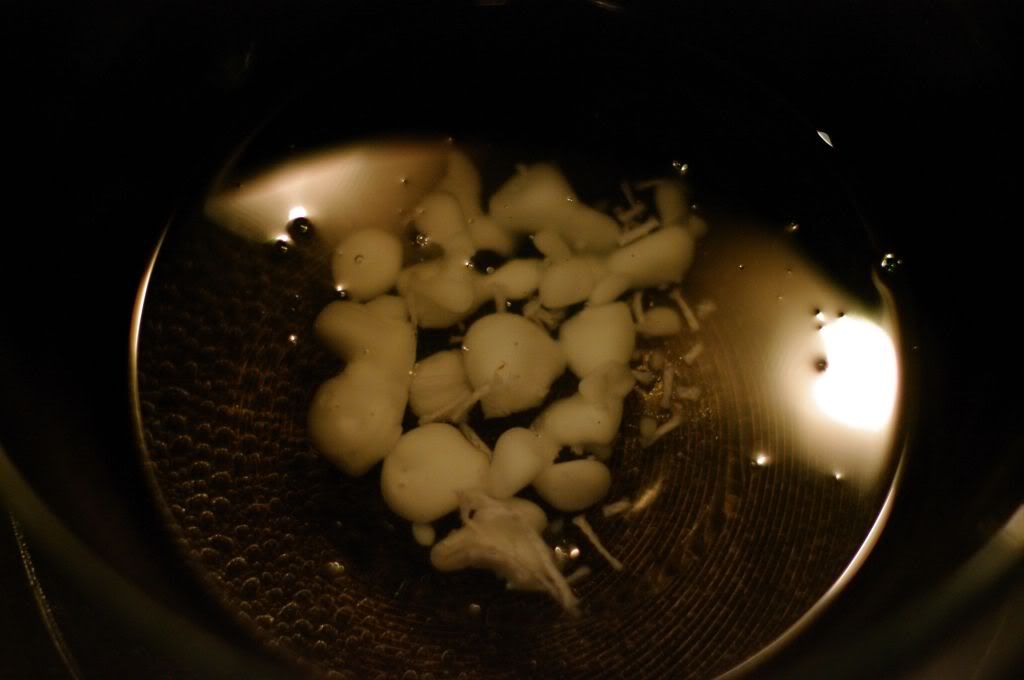 Add your linseed.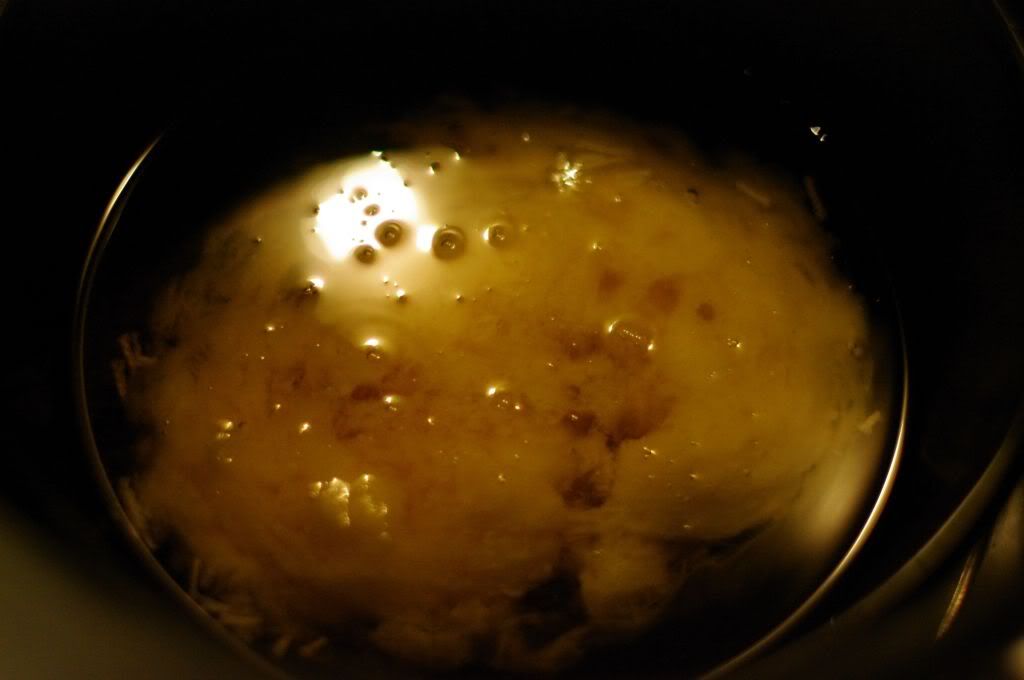 If its cold its going to try and set the wax up a bit so just wait for it to melt again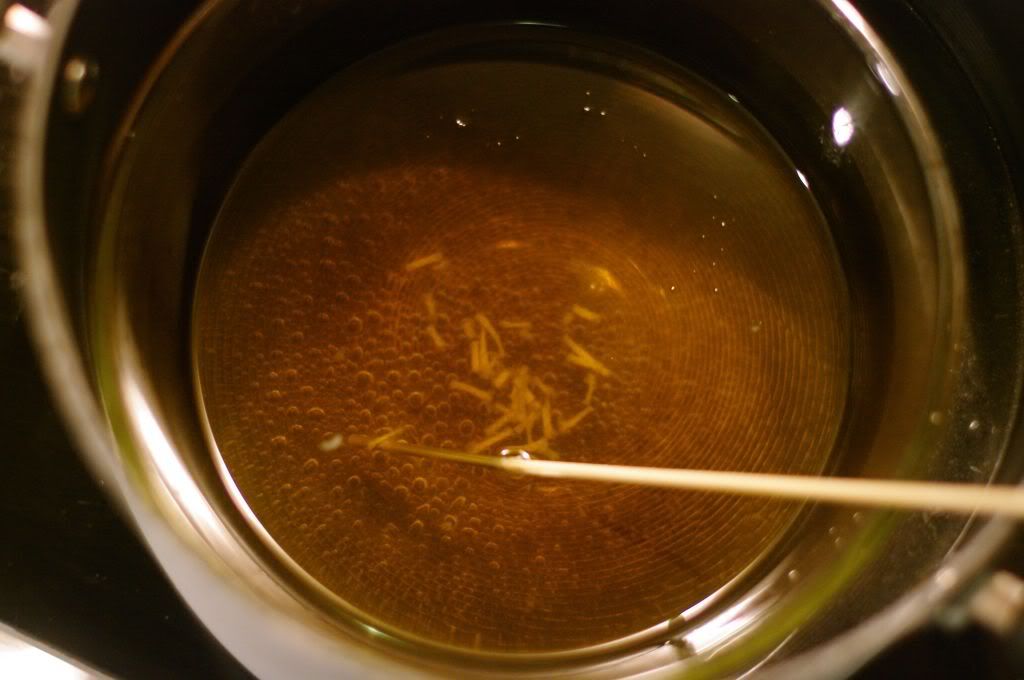 Take it outside and add the turps outside so you don't stink the house out and get in trouble :emozionato: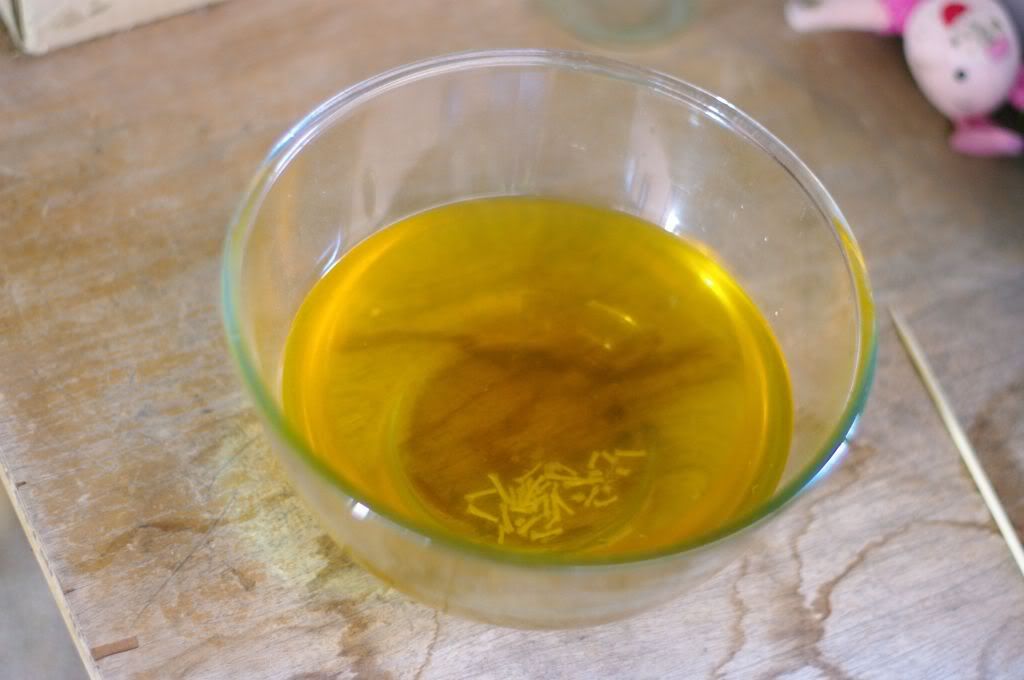 That it. Now you can poor that into a container or tin and use it again later or you can get to work straight away reproofing your oilskin. It doesn't need to be cool.
I lay my oilskin out on a chest. Make sure its dry.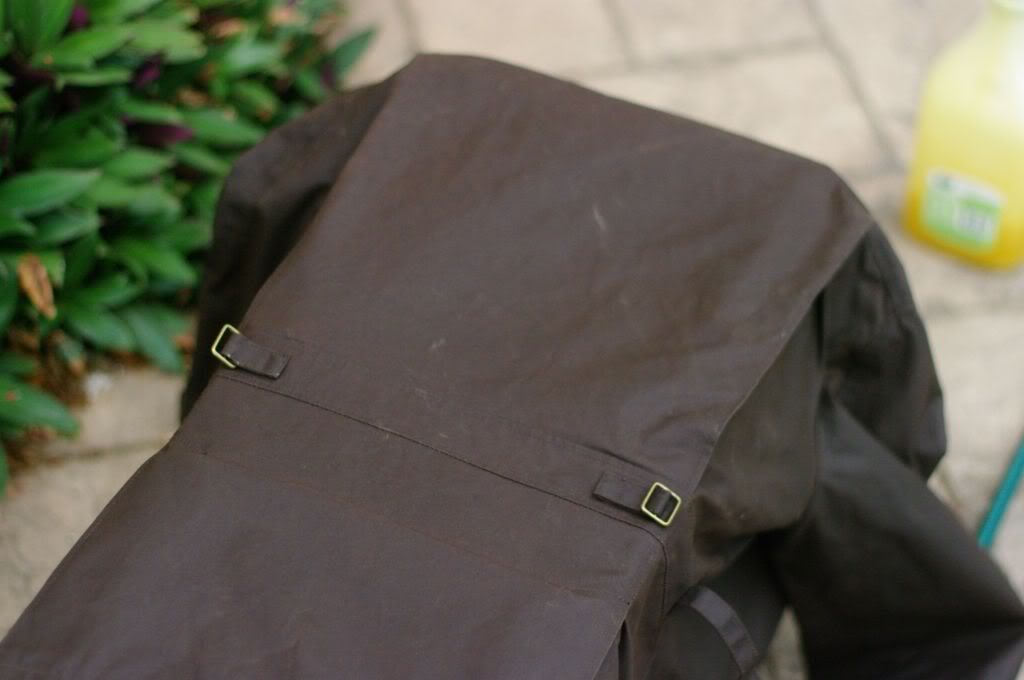 Get your reproofer together. It has cooled by now and should be about the consistency of margarine. Similar colour too. That's from the linseed, colour will vary if you use beeswax but most oilskins are dark so it wont matter.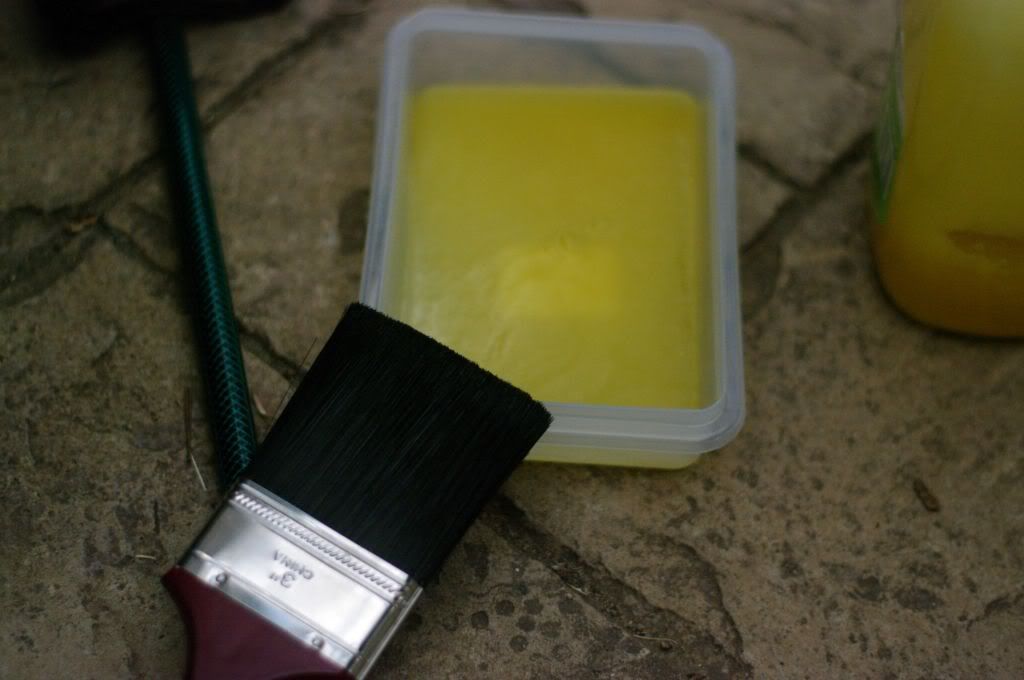 Start brushing on the reproofer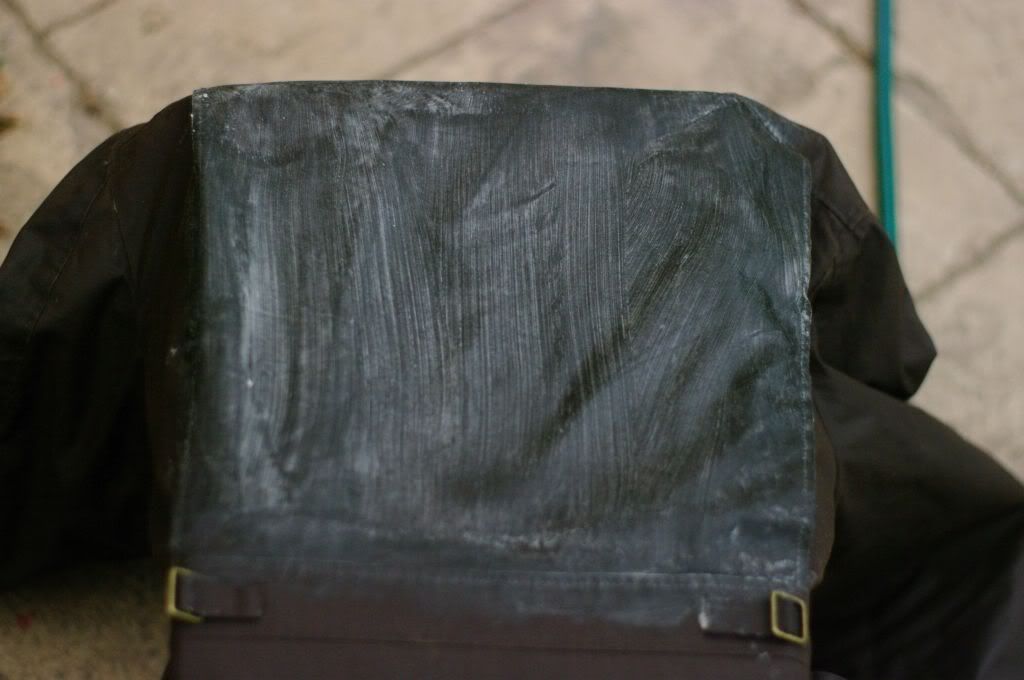 Work in sections, after applying to one workable section. Heat the mixture with a heat gun or hair dryer. This will heat the mix into a liquid and it the fabric will start to absorb it. See how its shinny. You want it to all soak in so that it goes matte.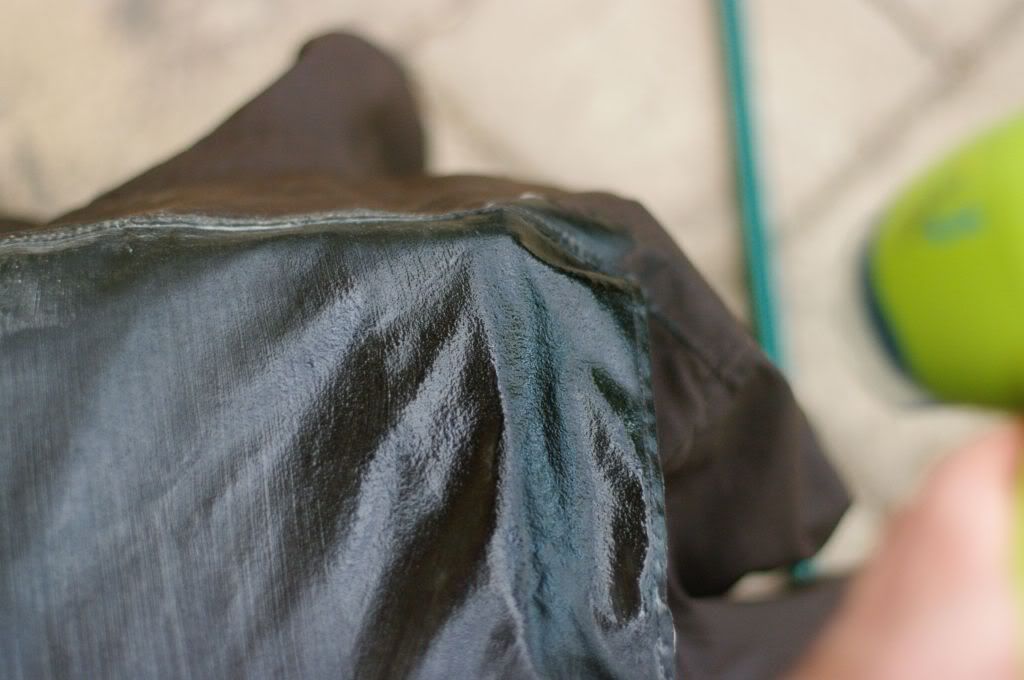 Pay special attention to the crevasses and stitching. This is were water can often get it.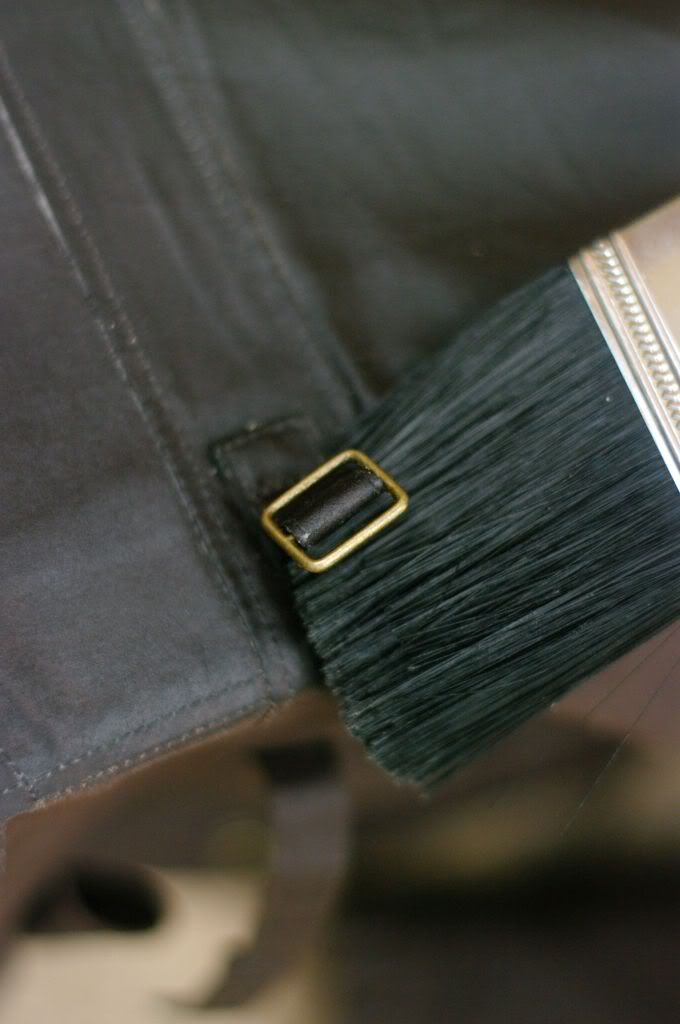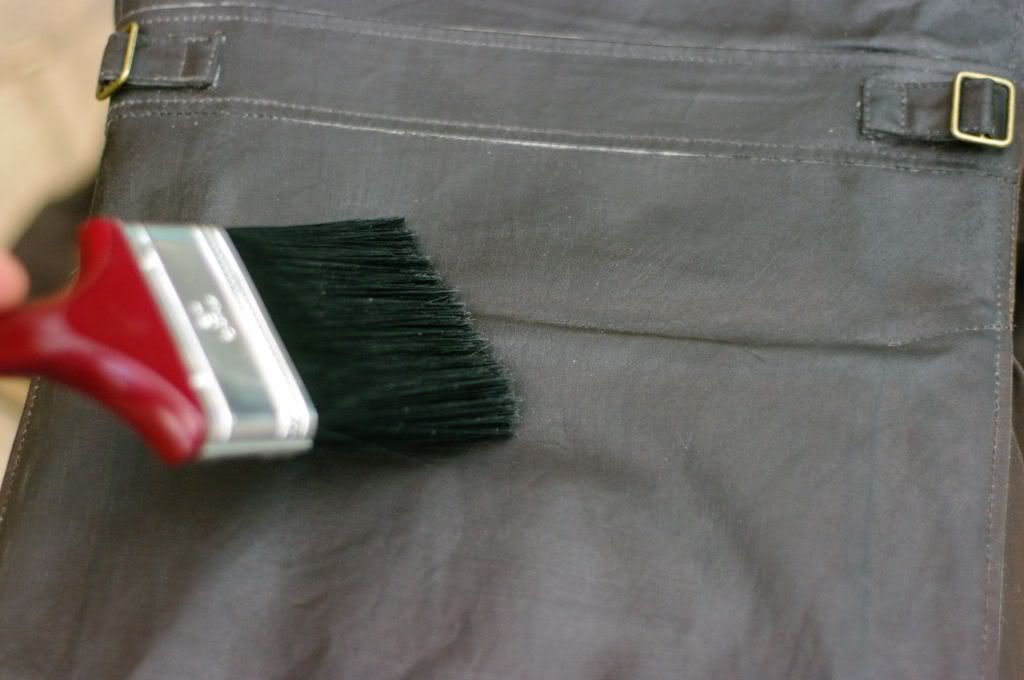 You can see the difference between the treated and untreated fabric
This photo shows how the fabric changes once it has absorbed the reproofer. The foreground has been spread with the mix but not yet melted in.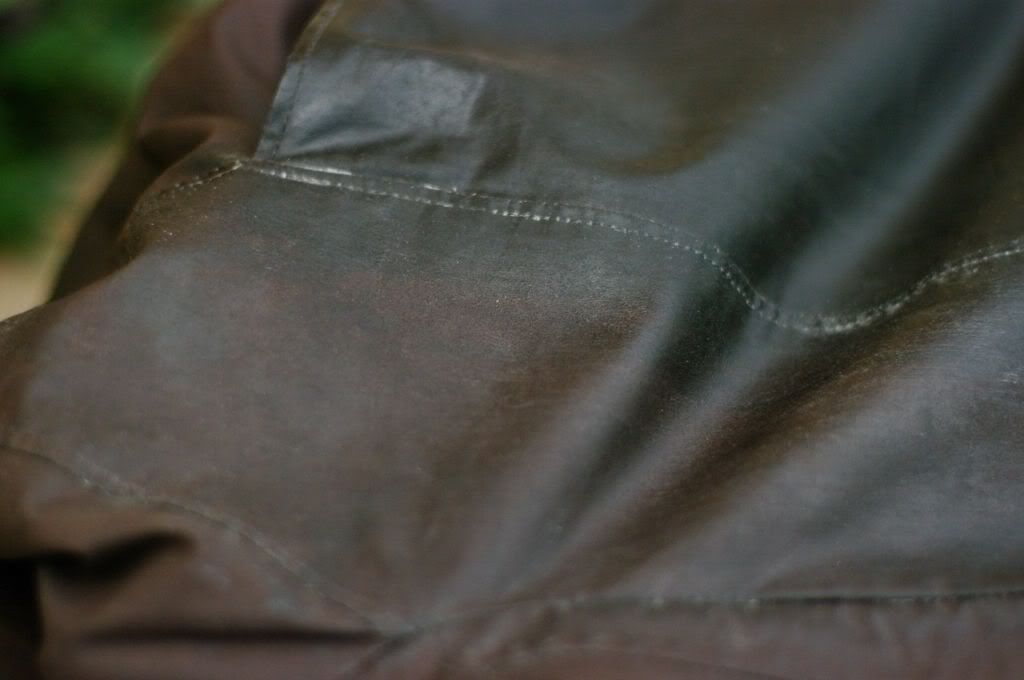 I give the shoulders and collar a good double whammy coating because that's what cops the majority of the downpour
After its all done. Leave it out to dry for a few days. In the sun is good if you have it
. The colour should lighten back towards the original as it drys. Not completely but someway.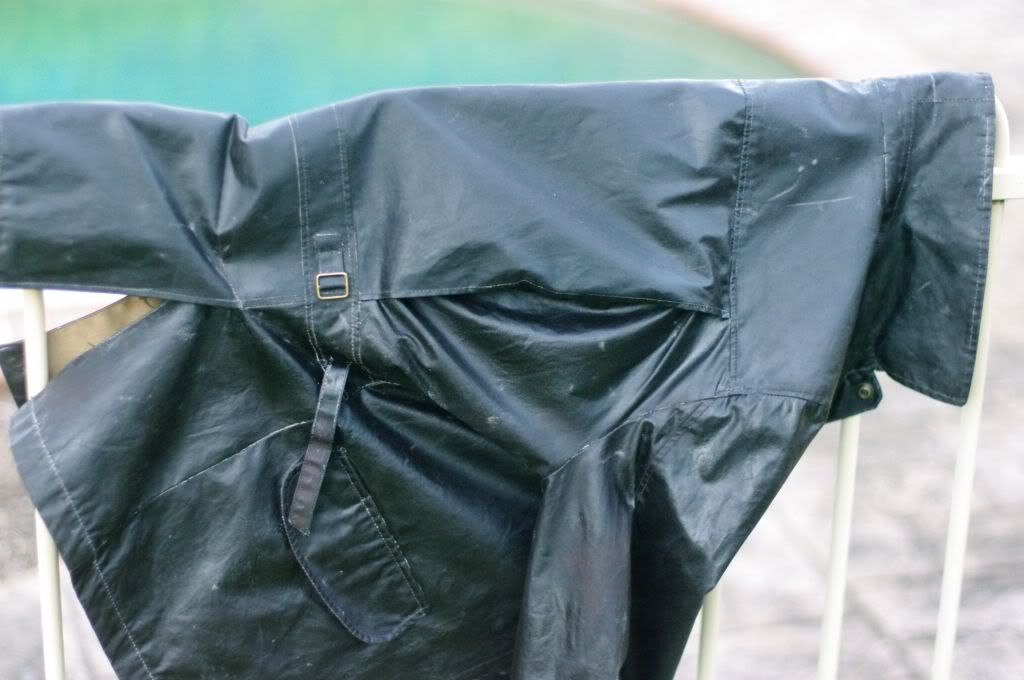 A note about the paraffin wax. Because it is so white if you use a heavy wax mix and don't work it in properly it will show up in creases in the fabric. I used a heavier wax amount than the mix I provided. If you see these marks appearing and it really bothers you then just go over it with a hard bristle brush and then work it in again with the hairdryer. Otherwise, who cares, it wont do any harm and it goes away eventually. Makes a good reproofing time indicator. :sorrriso: you can see what im talking about below.
The water should now bead off nicely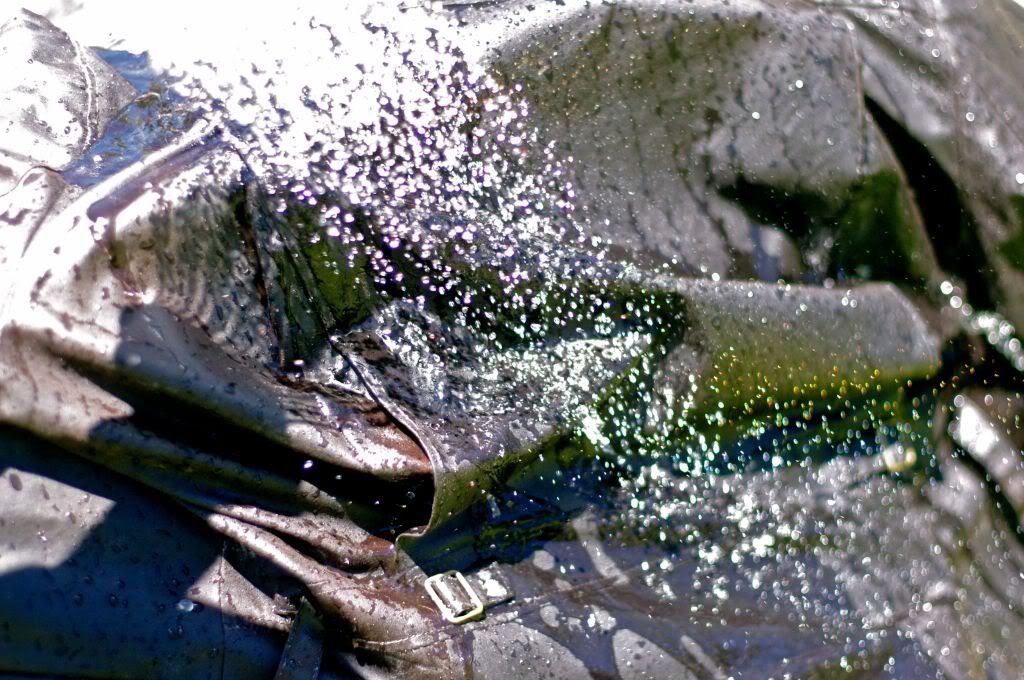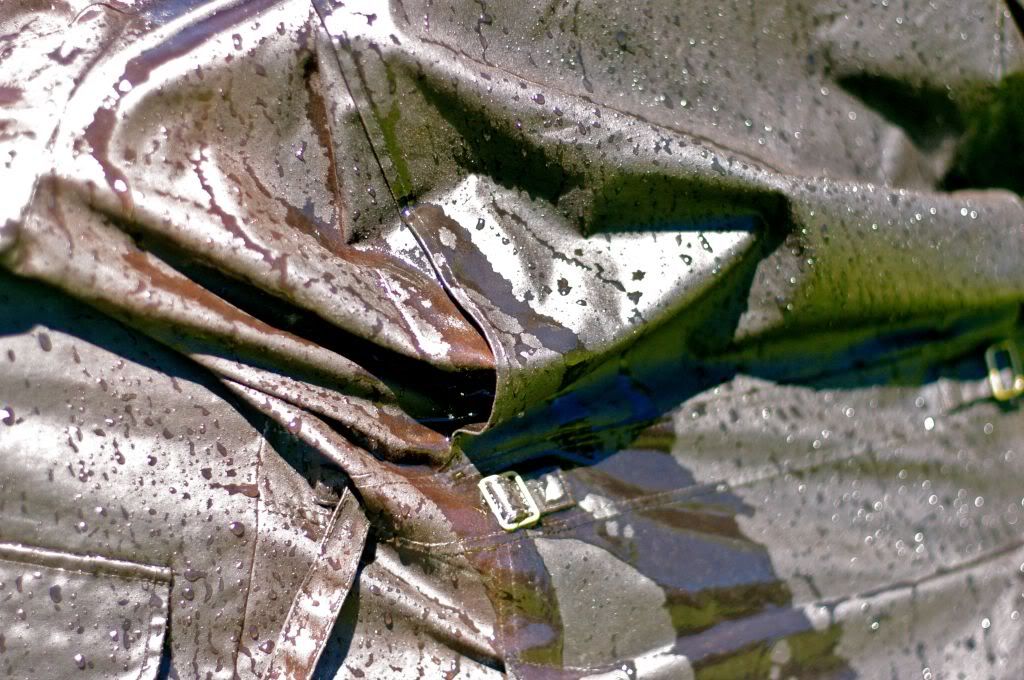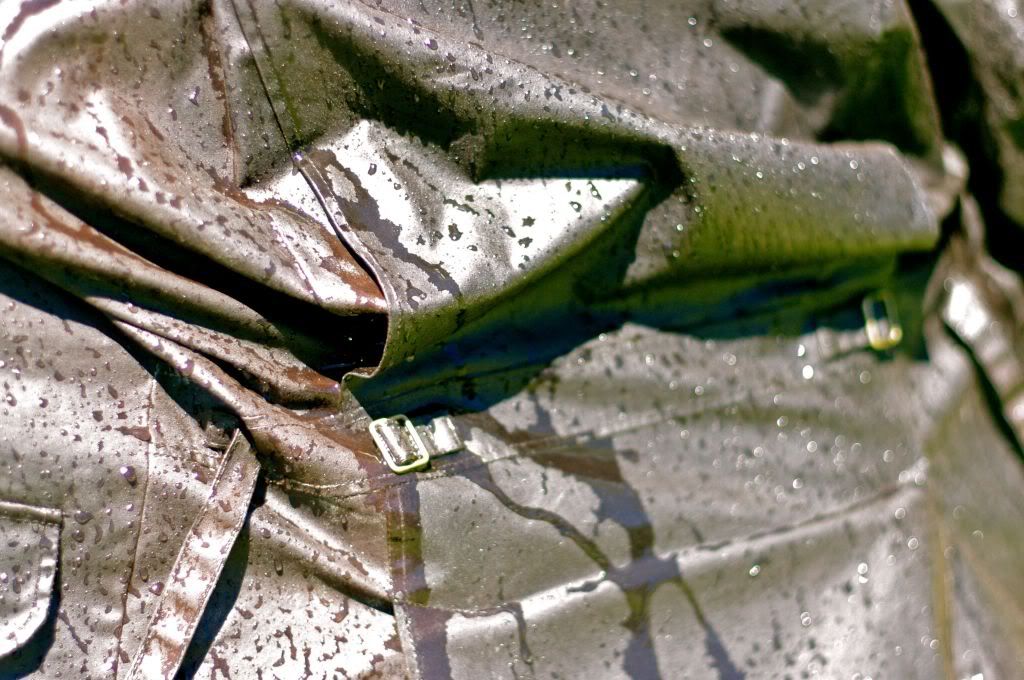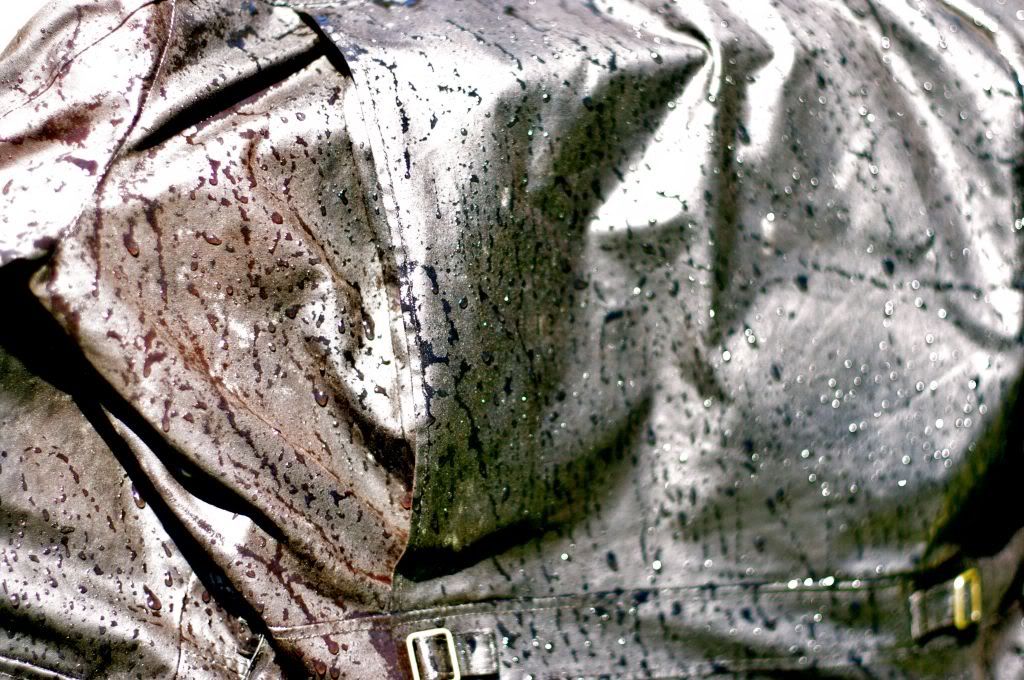 Now for a proper test. There are alot of rubbish oilskins out there that soak up more than they repel. Here is a test to show you how good they can be, even better with some quality homemade reproofing.
I put a stool in the shower and draped the jacket over the top.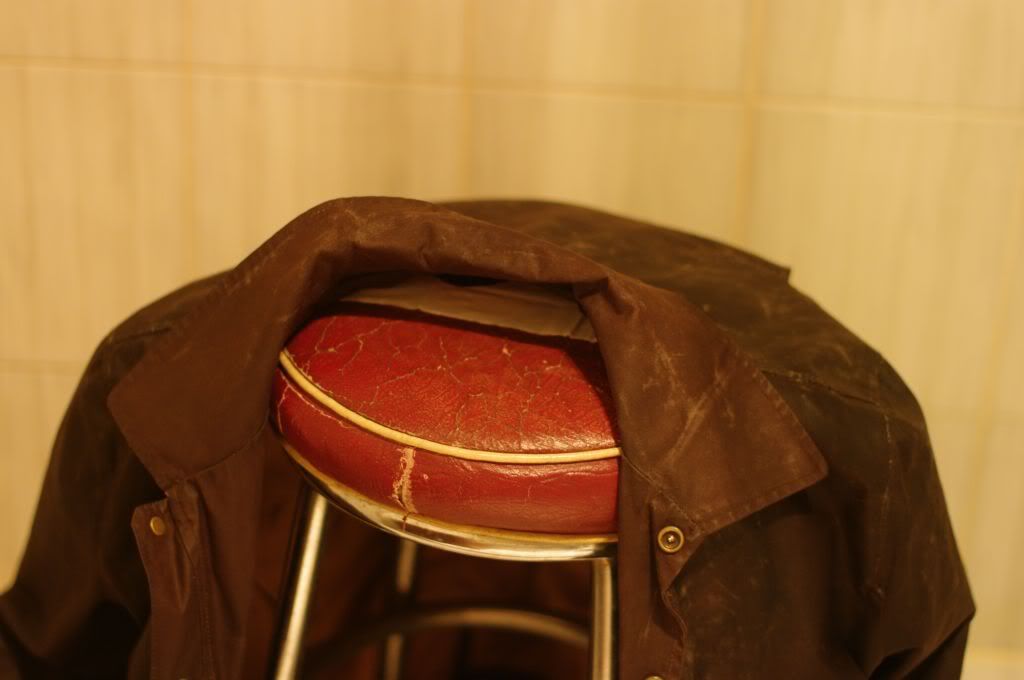 I don't have a moisture indicator so we will use a tissue, which I placed underneath.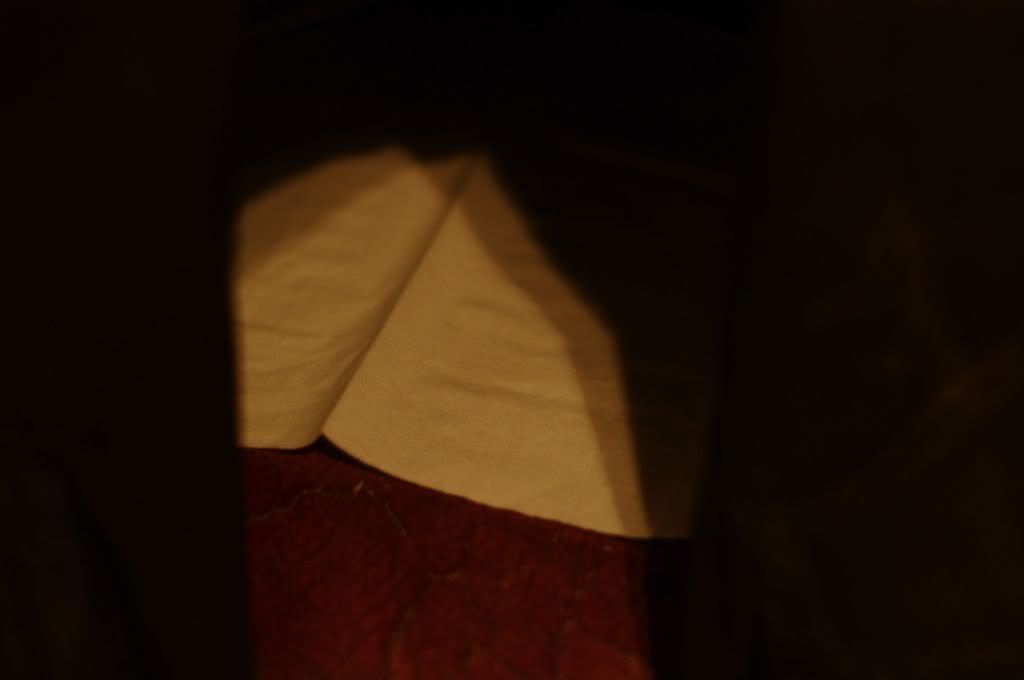 Show goes on. Don't worry I saved the water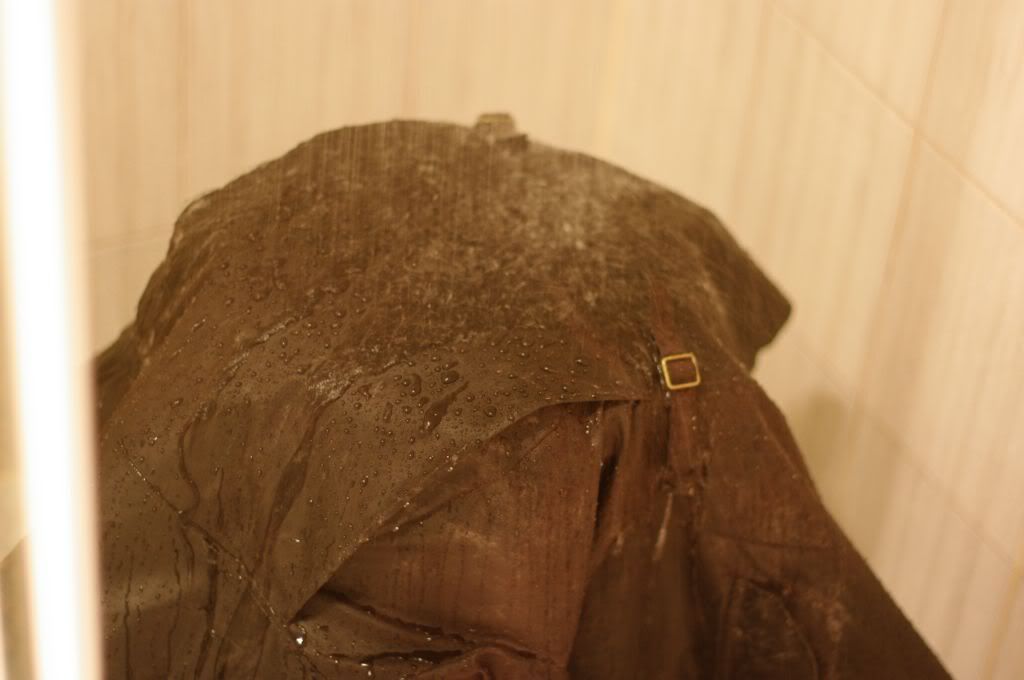 Five minutes later (those few drops on the tissue are from what dripped off when I lifted it off, not from soaking through)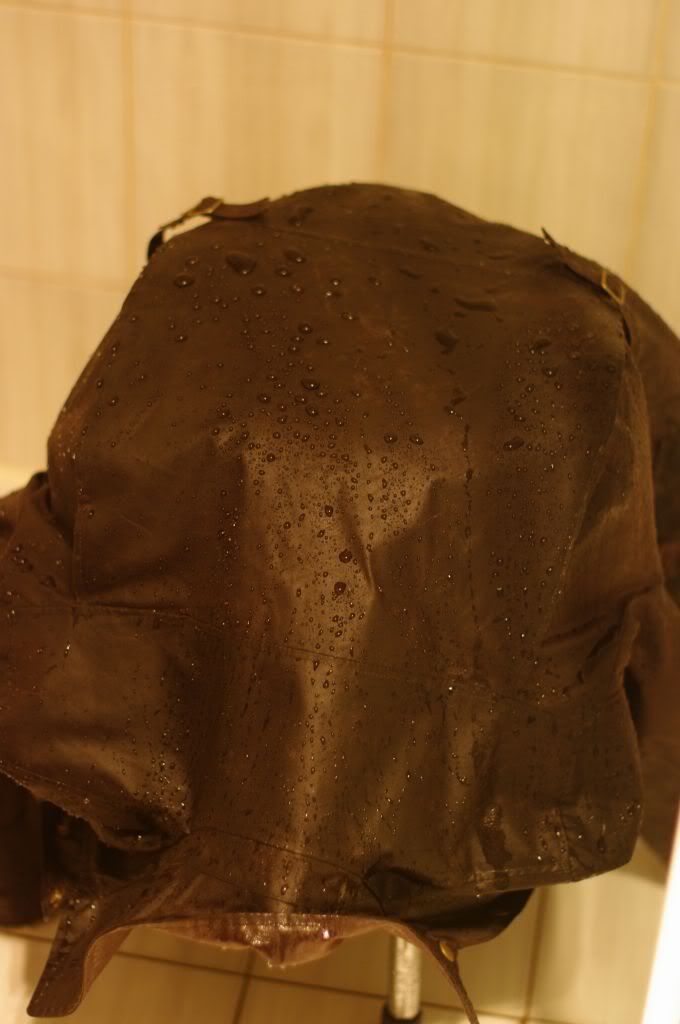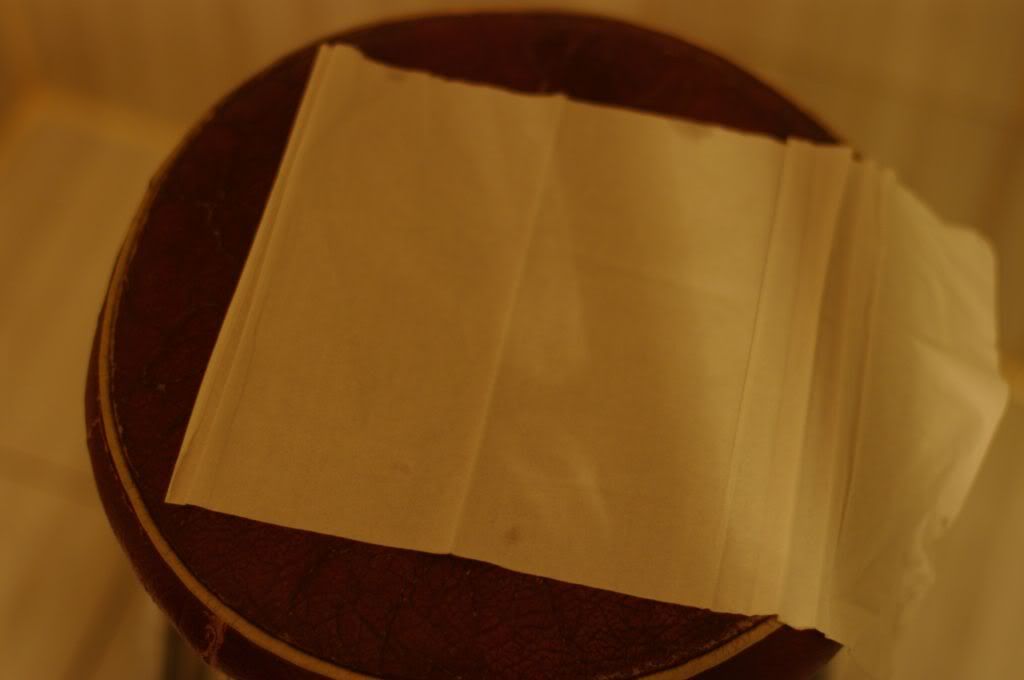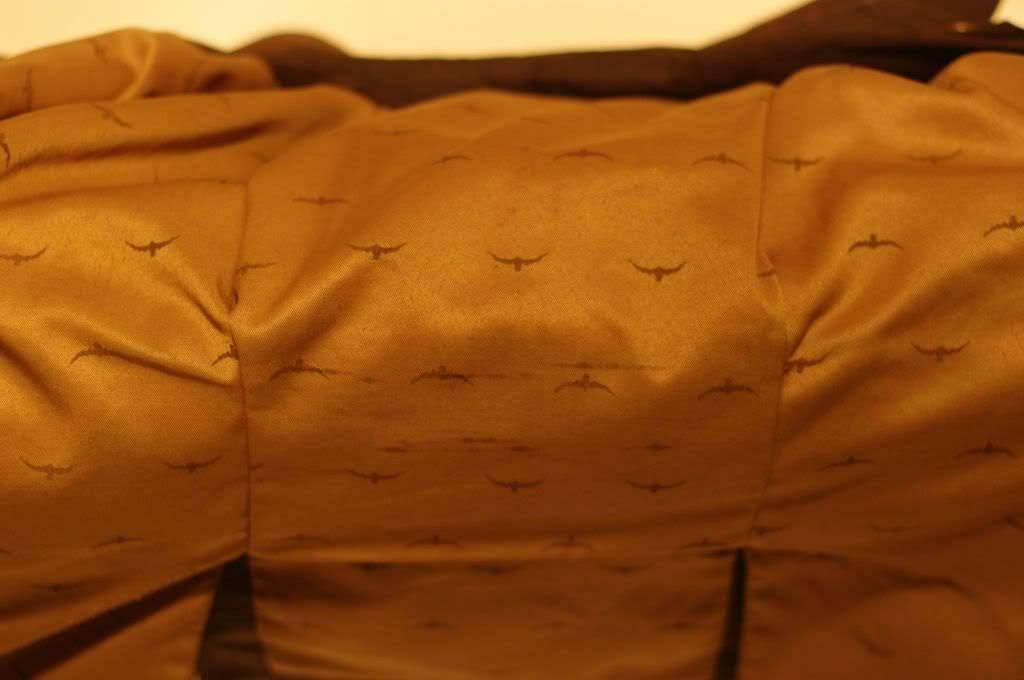 So there you go. I hope that has helped some people, and proved that the old traditional oilskin can still hold its own.
Thanks for reading.