Hey Bushcrafters,
So after getting a bit of new gear recently I've been eagerly awaiting the opportunity to test it out. Additionally, I wanted to try camping on foot and thus carrying all the gear I'll need in a pack (usually I camp with 4wd/swag/esky).Here in WA we've got a long weekend so I booked in a night away from the mrs, packed up my gear and headed off to my folks 100 acre property not far from home. Their property is primarily just untouched aussie bush with a few paddocks here and there. There's a clearing in the bush due to granite rock where I used to play as a kid, that was my destination for the night.
My pack, 75L Mountain Designs Gulliver, total weight was about 17kg.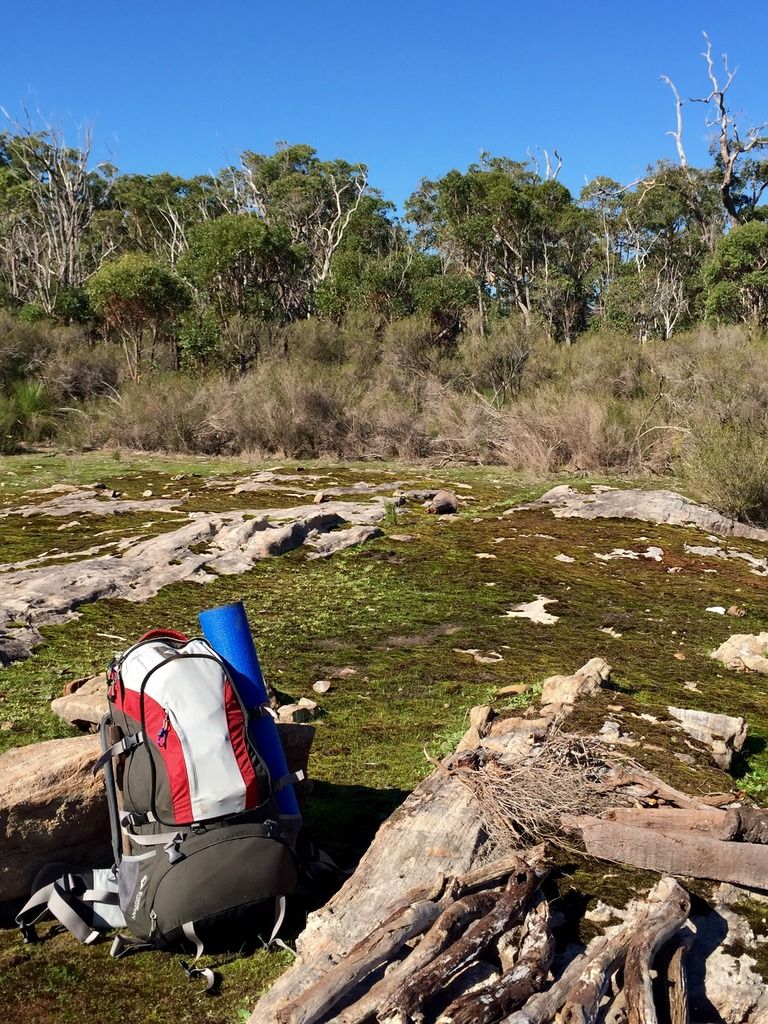 Now leading up to this trip, I was looking up on different tarp setups and had practiced setting up an A frame style tarp in the backyard. What I overlooked was that at this location there are no trees to tie off against and thus create a ridge line. So I had to come up with something on the spot and use what resources I could find to support the tarp.
I setup the fire place using 3 rocks and christened my new 12cm Zebra billy I found at a local hardware store. Also discovered it is harder to cook snags with sticks than it looks. I ended up slicing them up in thirds and using the plate included with the billy as a frying pan, worked a treat!
Below is a pic of camp at night, I was using a cheap exercise mat, new TAS bivy with existing sleeping bag and cheap bunnings tarp as sleep/shelter system.
I always try to learn something on a trip, below is what I noted:
- You need to be able to improvise. I was set on setting up the way I had practiced at home including the knots etc. This was not an option so I had to think about it and use what was available.
- Don't take multiple tools that do the same thing. I had a Gerber multi-tool, Swiss Army knife, Cold Steel Bushman and a tomahawk. Next time I would take the multi-tool (used the pliers a lot with the billy) and the bushman. I used the axe a grand total of ONE time, and the bushman could have done the work. I also use the bushman to light the fire with rod. Having all these tools not only added to my weight, but more importantly lead to "clutter" around camp which I am not a fan of.
- Bring a cleaning sponge. I didn't pack anything to clean with. Using the billy for cooking and boiling duties made it less than ideal to work with. Cloth will also help with cleaning knife/cup/utensils.
- Keep firewood near you. That way I didn't have to get out of bed to stoke it.
- Keep firewood dry. Something I didn't do. The fire went out when I was sleeping, using damp wood in the morning made it a bit more difficult to start a new fire.
- Have a reliable source of dry tinder available. When I set the fire up initially during the day I used some dry grass that was nearby and some smaller dead twigs on the bushes nearby. In the morning, everything was damp. I took some lint from dryer, this ignited fine but didn't last all that long and couldn't get the kindling going. Fortunately, I had a cotton wool ball soaked in Vaseline wrapped up in aluminium foil pouch, this created a solid flame which burnt through the damp wood.
- Shemagh (new item) was very useful. Wrapped around neck during afternoon to protect from sun, used to help poor boiling water from billy, placed ontop of my jackets (pillow) to make it a bit nicer and also placed over head at night when it got cold. It reduced the chill but you can still see through it, handy for keeping an eye on the fire.
- Water. Make sure you carry enough, it's suprising how much you use even when it's not hot. Drinking, washing out cup/cleaning, boiling for dinner/tea/coffee, putting out fire, it all adds up. I think I had about 3L, that was just for me and only for a very short amount of time.
So overall was a good little trip with some lessons learnt, a good test for some new kit and getting a feeling for what it is like camping with just a pack. Checking the weather it got down to 5.5 degrees, so considering the fire went out I thought my sleeping setup did a good job too. Next time I will try to pack a bit smarter and reduce the overall weight.
Thanks for reading,
MJC