Nest In the Hills
Staff member
Administrator
Joined

May 2, 2011
Messages

3,656
Reaction score

250
Location
Warning Poisionous
Scientific Name:
Pseudechis australis
Common Name:
King Brown
Order:
Squamata
Sub-order:
Serpentes
Family:
Elapidae
Other Names:
Mulga snake, Pilbara cobra
Distribution:
All states apart from victoria and Tasmania
Habitat:
Woodlands, grassland and sandy deserts. Often found sheltering in manmade and natural cracks and crevases.
Field Notes:
The king brown is a large, wide snake which can grow to a length of 3m. It is a dark brown in colour, although this can be closer to black or much lighter sand brown depending on the area.
The king brown is actually a black snake, belonging to the same genus as the red and blue bellied black snakes. A lot of Australians may refer to eastern brown snakes as king browns although they are seperate snakes
King browns can be very aggressive, and often chew if successful in biting. Although the venom produced by the king brown is not as powerfull as other Australian snakes, it makes up for this by injecting huge volumes of venom.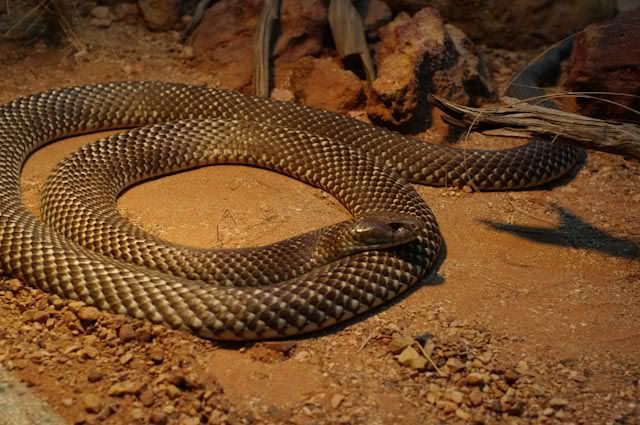 Last edited: