Joined

Jun 22, 2011
Messages

164
Reaction score

8
Location
Had a few request here for the story and some more pictures.
Although as I mentioned bushcrafts was not the main focus for this trip my skills for weather prediction, fire starting etc were invaluable. I was also keen to and did track a number of animals as their routes are usualy the best way.
We all got some amazing video footage while up there and Im currently sorting through it. There will be a little doco of the area in the nearish future.
I hope everyone enjoys.
Day 1.
After driving the very rough roads to get to our starting point we were walking by 2 pm. The snow was thick around 1300 meters.
We gain a lot of elevation and felt it with our heavy packs. Mine was 33 Kilos.
We got a few kilo meters under our belts and made camp at 1646 meters.
Day 2
We packed up camp and moved slowly.
We gained the higher county with the access gully that we had discovered on our first trip to the area while retreating from the storms that year. It was the safest way to climb the steep sidings with packs.
We finally gained the ridge overlooking the Terrarosa Lake then descended a long way down to it and made camp on the rocky benches overlooking it to the South.
Camp at 1483 meters.
Day 3
We cached our gear in one of our two tents and packed our bags for two nights up on the Terrarosa Glacier.
The glacier was just a beautiful as last year and the day was perfect. We followed the main valley to the Northern head wall and ascended without trouble.
We made camp on an outcropping of rock just under Ignite Peak which we climbed last year.
Camp at 1832 meters.
Day 4
Today Adam and I were going to explore the southern side of the glacier while our two companions were going to peak bag everything they could in the day. They were scheduled to be out for 7 days with us and would be returning to the car. There was no way Adam and I were going to climb the Spires this year as the rock would be just a terrible as last year. Our climbing would come later in the trip.
We all summated Terrarosa peak which was a beautiful snow climb to some exposed rocks.
From there we went out different directions for the day.
Day5
We took our time to pack camp and started moving back across the glacier to descend the way we had come back to our stash of gear.
We then repacked our bags and cursed the heavier load after two days of light scrambling packs.
We crossed Terrarosa lake's edge and started to descend into the valley that would lead us into the Stave River watershed. A remote and rarely visited glacial complex that was first surveyed in 1955 and since then has seen very few visits. The Stave and Misty icefields are the largest glacial complexes close to Vancouver city.
The valley was a bush heck! We all found our own way down using the Alder to aid in many 'Veggie Repels'
Once the creek was walking safe we jumped in to make better time as the bush progress was horribly slow.
Our camp was the most beautiful of the trip on a small peninsula on a fair sized glacial fed lake. On our maps it was labelled as the Stave River. It was our lowest camp at 991 meters.
Day 6
Were walking by 11:30 and found ourselves in an amazing area that was only 20 years ago cover by the now receded Stave glacier. This created 2 new lakes that were not found on our maps. The going was mixed with some very tough cliff walking and route finding onto some beautiful terrain that made for easy walking.
We made camp on one of the 'New' lakes at 1032 meters.
Day 7
Awoke to a cloudy day and by 11 am were we walking. It was an exciting day as for the first time we would meet the Stave Glacier. We had been looking from the high peaks over to this area for the last two years and now we found ourselves there.
It was a day of nothing but up. The going was relatively easy as the terrain was very barren. We skirted the glacier and then gained it via a save route once we had got the ropes on.
I led Adam as he has a few kilos of weight on me. Kelly and Matt (our companions) sorted themselves out on a different line.
We made our way through some pretty spectacular crevice fields and made our camp on another outcropping of rock that was forming a pretty nasty randkluft its other side. This camp was slanted and I had all of my gear that was not in use under my mattress to make it a level as possible. This was also our home for two nights as it set us up for some peaks.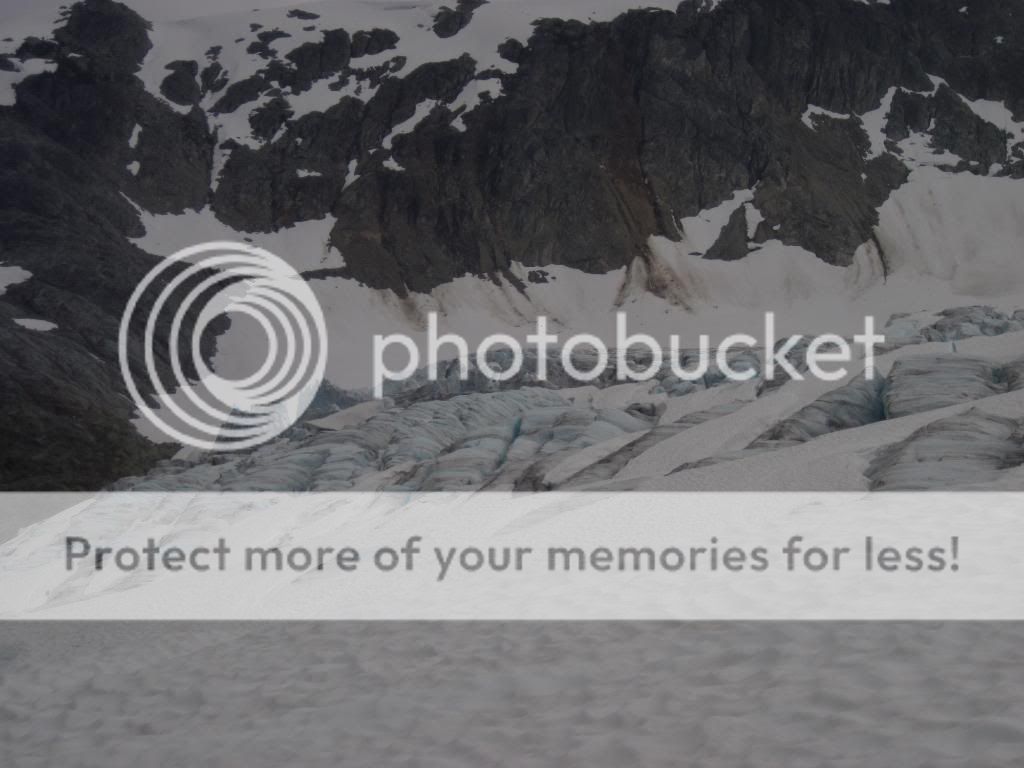 Day 8
It was a sad morning as this was the turn around point for Kelly and Matt. They had come all this way into the area with us only to turn around. Adam and I had 7 more days. They were going to take a different ridge back in the general direction that we came. Adam and I watched them until their small specks disappeared from view. Our spirits were soon lifted as we roped up and started towards the highest peak of the trip. Stave peak at 2300 meters. We had a lot of climbing to do and were glad to find the rock and snow in great condition. We summited Stave peak and had some food. Next on our list was Misty peak. A incredible looking spire of rocks with a few sub spires. Our scouted route on Misty looked great but once arriving there we found that there was a huge randkluft . There was no way we were going to attempt to cross this abyss even with our ropes. We circled around and found a promising chimeny that we attempeted. About 20 meters from the top it played out and we were not going to risk going higher. We then had a lot of fun down climbing that.
Happy with that day we returned to camp.
Day 9
We packed and camp up and were moving by mid morning. We pushed west across the glacier and gained its height of land. We were surrounded by amazing peaks. We found an incredible camp in the early afternoon and set up. We lazed around in the hot sun and once it started to cool off we shouldered our small packs to spend the evening on one of the near by peaks. We chose one by the name of Halkomelem and it is my fariout peak of the trip. It was a snow climb up to give increblie views of the other peaks in this small section of range and then a incredible crack in the rock made for a incredibly fun and only slightly exposed route to the summit.
Day 10
Amazing luck was with us for this trip and this day we woke to find the usual morning clouds were gone. We snatched out ice axes and some snacks and started off for the nearest peak to our camp. Nebula peak. A snow climb all the way to the top where a flat section of rock held the summit cairn. It was the hardest kick stepping of the trip as the sun had not had the time to warm the snow yet.
We traversed Nebula to have a look at what is know as the Betstel Pinnacle. It is as far as we know, an unclimbed monster of a rock.
We got as high as we could until we could go no further.
Here is video Adam filmed from the highest point we climbed to.
http://www.youtube.com/user/terrarosagear#p/a/f/1/ddYAn9cvSPU
We returned to our camp and still having a large amount of daylight we packed up to move up into the next set of peaks.
There was a fair bit of elevation to gain lucky the travel on the glacier was now far less technical .
We came to the base of Katzie mtn and droped our pack. What looked like a easy summit actually gave us a good test and on the third route attempt we got up. Rotten rock and poor snow conditions in a section were the culprits.
On the top we found our first summit note from a legend of the area John Clarke. It was his first ascent note from 1971 and a return trip in 1999. I left our pen in the packs but we didn't care. We made camp on another outcropping of rock. Nimbus peak towering above us was tomorrow's peak.
Day 11
The clouds had really come in. There was no rain but visibility was limited. It was very chilly so we cooked brekkie in the tent vestibule. When conditions did not improve we waited a bit longer before packing our stuff to give Nimbus peak a go. Food was getting very low and we were slightly worried with 4 days still to go.
Nimbus was an easy scramble to the top after a traversing a few sub peaks. There we left the story of our trip that included the first ascent note from John in 1971. The clouds still hung around so our views were limited.
This was the last peak of the trip and we lingered not talking much between us. Just enjoying the area.
We finally said our good byes to the heavens and headed down. We shouldered our packs where we left them and started to descend into the land of the living. It was a long descent and by the end of the day we stumbled onto the old logging road where we immediately started a fire for warmth and set up camp.
Day12
Today sucked. It was a march for 25 kilometers along the overgrown logging roads. In our mountain boots our feet were shot by the end of the day. Our goal was a little thermal spring that in the early 60's the loggers in the area found and put two concrete walls in to hold the hot water. With luck we found them. It was about a 10 meter repel down to them in their spot in the canyon. Hot water had never felt so good. We finished the last of our food with dinner only ¾ cup of oats remaied. We now had a day and half until our pick up was due. In hind sight we should have broken up the 25 km road march into 2 days. This would not have helped our food situation though.
Day 13
This day was spent very well doing 3 things. Resting, soaking in the thermal pools, and foraging with the black bears for berries.
After not eating for the full day we cooked our last bit of oats and in a moment of great inspiration we added some of our berry haul to it. This was the biggest mistake. What ever it was this mixture became almost inedible. IT was terrible and only with great will power did I manage to forece some of it down. Saving the rest for the following day. If our pick up boat didn't show we would be forced to walk a further 30 km of logging road until we had a change of possibly flagging a fishing boat for a ride. We were worried.
Day 14.
We packed our bags for the last time and waited for the sounds of a motor. I struggled to down a bit more of the "food" we created the night before. At 11 am our prayers were answered and our boat came around the corner into view. With our energy totally gone Adam and I manhandled our packs to it. Larry had brought us Moose peperoni sandwiches and had hauled our good friend Kevin along for the ride.(Kevin came along last year with us)
Seeing that boat come around the corner brought a tear to my eye.
We were soon heading down the river to Pitt Lake and then back to reality.
If I may put one final word in about the weather:
GREAT