Nest In the Hills
Staff member
Administrator
Joined

May 2, 2011
Messages

3,695
Reaction score

302
Location
So I've been practicing a bit getting my hand drill technique up to standard. While there is alot of great information on the net and in books I wanted to post up (in between letting my blisters heal) somethings which I feel have really helped increase my success rate. This wont be a "how to" on the hand drill as that is well covered. Rather this will be a coverage of some finer details which I have found to tip the odds in your favor. These are some tips which I feel are very important but I dont always see mentioned so I'm going to note them down while they are fresh. I found myself making alot of smoke, sweat and swear words but no fire with the hand drill at first and I see this with others also. I think that alot of the time its just one tiny aspect or detail which will tip you over the edge to that elusive ember.
Photographic references will apply mainly to Xanthorea in this post as that is the most common and popular friction fire material in Australia.
Friction fire is a funny thing. I have discovered on my journey that it requires a real delicate finesse of technique and preparation but also a heavy fistful of grit, power and endurance. Its a funny combination and something I've found is never easy. One day I do five in a row with the near ease of striking a match. Then try another time in front of friends or in the bush and fail miserably. Ive learned that starting fire this way can never be taken for granted and every time in kneel down to start I'm never 100% sure if I'm going to succeed or not. With the hand drill this is compounded 10 fold. The bow drill is a brilliant method of friction fire which utilizes mechanical advantage to improve the odds but it this also makes up for short comings in your preparation. This is why I have found the hand drill prep to be so important. So here are my tips.
1. Tune your drill tip
I have found that it is very beneficial to tune the shape of your drill tip based on the diameter of the drill. (Fig. 1) If your drill is on the thinner side, like your pinky finger or smaller then you are going to want to use a flat tip for your drill. Flat tips have two advantages. They increase the surface area in contact with the board and give your more friction but they also give a 90 degree cutting into your base board. [Fig. 2] This means the drill is much more secure and the drill is less likely to fall out. [Fig. 3] If your drill is unusually large then you can still get an ember but I would recommend rounding off the tip more. A flat tip on a wide drill may create too much fiction and fatigue the user prematurely. When you have too much friction the users first natural reaction is to let up on the downward pressure being applied. This has the negative affect of polishing the wood or what I call "squeak and shine" [Fig. 5] which I will talk about a bit later. If your experiencing this then your fighting a tough battle as there is also the possibility of the drill slipping out of the hole at this stage because of the let up of downward pressure.
I also have seen, and tried some very pointy, almost pencil-like hand drills from time to time. I find this rarely successful and fast to "squeak and shine". With this, only a small amount of downward pressure is being applied to the baseboard at the tip and dissipating up the sides. [Fig. 5] If this is the case you might see a very small burnt hole with a shiny rim. Try a flatter tip. I will preface this by saying that the reason I see sharper tips is because the drill is slipping out of the hole and a pointy tip is good at keeping the drill in place. This is a solution usually to a larger problem. That being, either the drill is not straight or the original starting hole was made with the tip of a knife and is only very small to begin with, maybe both. I will speak about the solution to both these problems later.
A good rule of thumb to dictate the curve of the tip is to look at your fingers. Thumb or larger, rounder tip. [Fig. 4] Fingers or smaller, flat tip. This is rough and its always best to tune it as your experience guides you. It also depends on the hand strength and expertise of the user.
The stem selection is an often overlooked aspect at this stage. To quote Corin.
The material is a critical one, and it is important to note that material plays a HUGE part. All Xanthorrhoea is not equal. Even plants of the same species will not always produce usable material. Stems collected from plants growing in damp areas seam to produce thicker stems that are soft an pithy, while plants on sandy dry well drained soil often produce thinner harder material that is much better.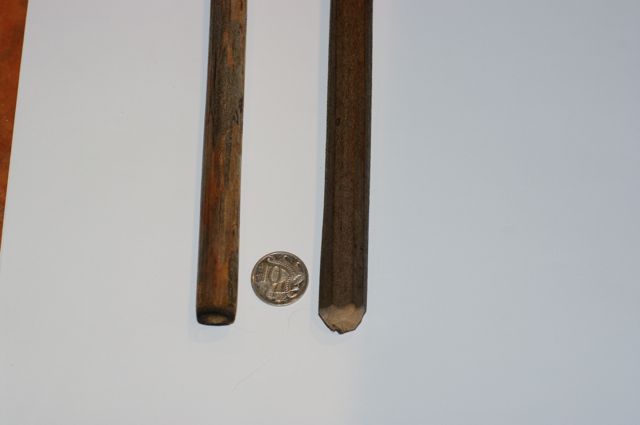 Fig. 1 Two alternate diameter xanthorea stems are shown and the tip shape that would be most fitting for their thickness (the curve on the second is more for illustration as that is the thickest one I have)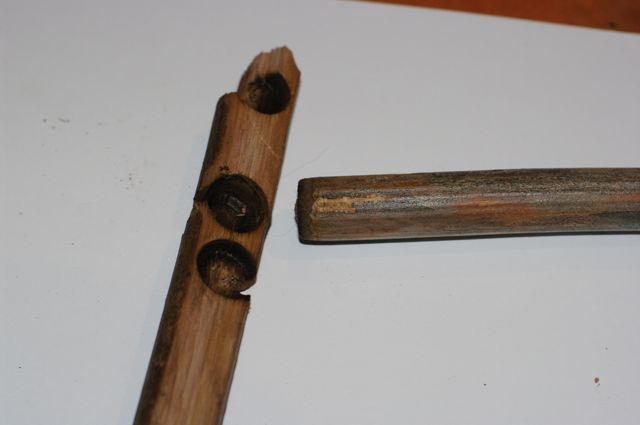 Fig. 2 Showing the 90 degree cutting created by a flat drill tip. This gives stability of the drill in the baseboard reducing the chance of the drill slipping out of the hole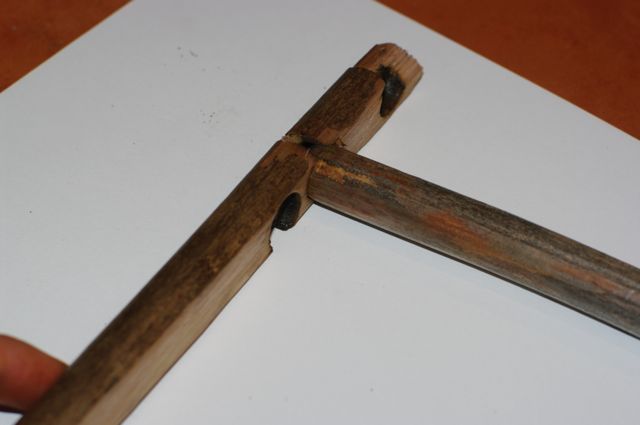 Fig. 3 Showing how a flat tipped drill fits snugly into its cutting.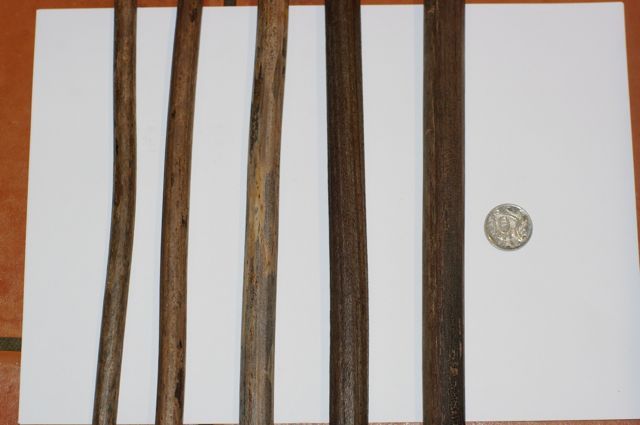 Fig. 4 Size range of Xanthorea stems. The stems can grow considerably thicker than this however become less appropriate for the hand drill method.
2. Always burn your hole first
It's easy to forget or neglect to burn the hole in your base board. With the hand drill you really need to put alot of downward pressure early for a short period in order to establish the drill tip and baseboard. Failure to do this will result in a polished surface on the base board and the drill tip which will severely hinder your chances of an ember. [Fig. 5] In some cases the heat from the friction will also harden the wood compounding the effect. [Fig. 6] In some cases it will be necessary to re-cut the tip of the drill and create a new notch. The easiest way to establish a good notch for drilling is to cut a square notch from the baseboard. Not only is this better for stabilizing the drill but it also gives a rougher surface for the drill to work into. [Fig. 7]
Once you have the hole cut you can use maximum effort to burn the hole. Once the hole is burnt and scuffed it is better to take a break and cut your notch. [Fig. 8] I find once burnt in it requires slightly less effort then required during the initial burn in, although effort is still needed to avoid polishing the wood.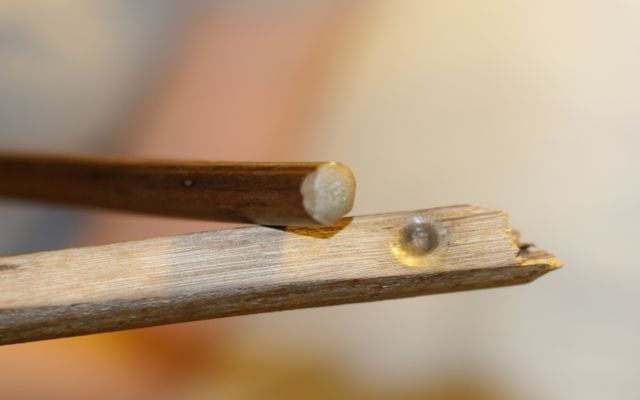 Fig. 5 The wood on this hole has become compressed and polished as a result of improper downward pressure and preparation. Note the wood is only burning in the centre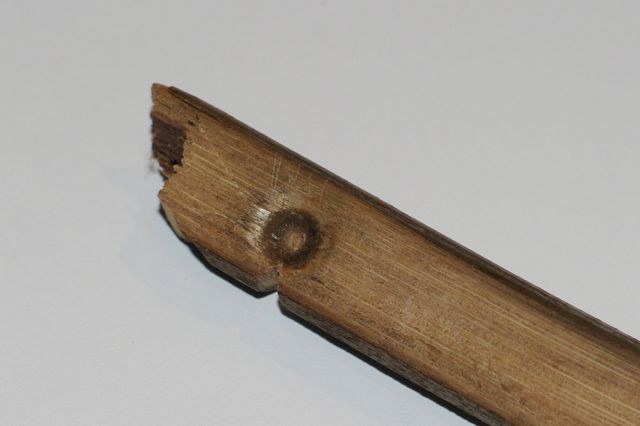 Fig. 6 This notch was established by starting a small hole with the tip of a knife. For beginner users this increases the chances of polishing the wood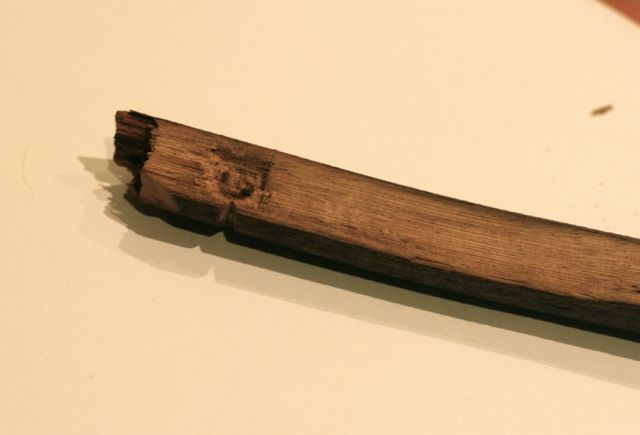 Fig. 7 A square cutting gives more success when burning in the notch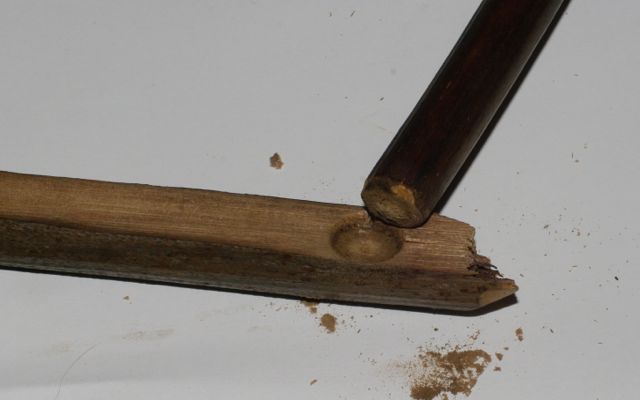 Fig. 8 The same base board as fig. 6 after cutting a square starting hole and re-drilling with adequate pressure. Note the base and drill are now adequately scuffed for maximum friction
3. Notch depth
With a correctly cut notch you will increase you chances of getting an ember substantially. If the notch is too shallow or thin the heat will not transfer to the dust correctly and this will effect your chances. Make sure you notch proceeds to the centre of the hole for the best chance of an ember. This is where a smaller bladed bushcraft knife is very useful but a folding saw also makes a great job of cutting notches being both quick and the right thickness. Although a v cut seems preferable, the shape is not nearly as important as the depth and width of the notch.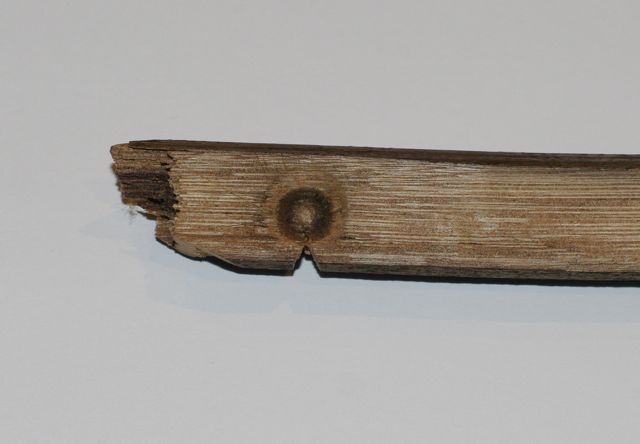 Fig. 9 A poorly cut notch. This notch is not deep enough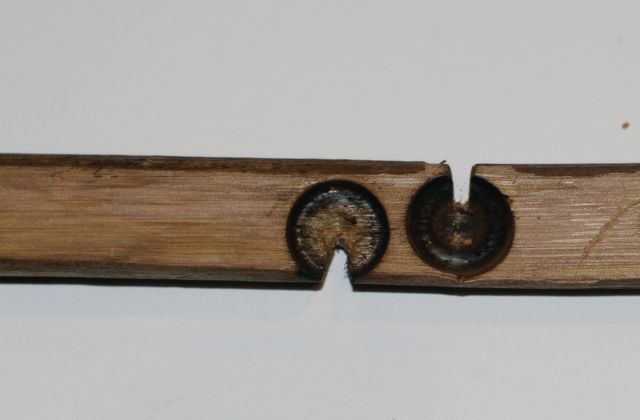 Fig. 10 The board shows two correctly cut notches extending into the centre of the board
-------------------------------------------------------------------------------------------------------------------------
Troubleshooting
My drill is slipping out
1. Check cut a square hole the size of your drill bit
2. Use more downward pressure
3. Check drill straightness. Straighten carefully over knee or against foot
My Drill is not straight
1. Straighten carefully over knee or against foot. Test by spinning for wobble, looking down the length for bends or laying the drill on a flat surface and rolling.
I cant get enough downward pressure
1. Spit on your hands and the drill and rub hands on the drill until you feel them gripping then proceed
2. Kneel over the drill and use your body weight to bare down on the drill. Cross legged is harder generally for beginners.
2. Apply some wax to the surface of the drill
3. Try the
modified hand drill technique
until you are comfortable
My drill is squeaking and shining (polishing)
1. Cut a new square hole
2. Flatten your drill tip
3. Apply more downward pressure
4. Add a pinch of dust or sand to the hole
4. Cut or rub off the polished layer from the tip of the drill and try again with above tips
I get smoke but no ember
1. Check your notch is deep enough
2. Try flattening your tip
4. Work on rotating both hands evenly for maximum rotation
5. Smoke doesn't guarantee an ember. Wait until you see it or when you are sure you have it. Go for another 10 seconds as hard as you can.
3. If above are done then work on your endurance and apply more downward pressure. Remember to breathe. It is common for people to restrict their breath when trying friction fire.
My baseboard keeps breaking at the notch
1. Your drill is to large for your board
2. You are drilling to far down. Its best to stop with some wood to spare and move on to a new hole. 2-3 fires from one hole is average for Xanthorea.
The drill keeps moving out of my fingers/hand
1. Practice rotating both hands evenly.
2. Try holding the drill in different positions on the hand. The palms seem to be easier for beginners.
I'm getting blisters
1. It happens I'm afraid. Calluses will establish over time to protect your hand. Keep practicing at least 3 times a week for 15-20 minutes.
Ive tried everything and still cant do it
1. Try a longer drill. I recommend the length of your arm for a beginner
2. Practice
3. Attend a local bushcraft meet and ask for assistance with your preparation and technique
Last edited: