Joined

Jun 22, 2011
Messages

3,079
Reaction score

1,460
Location
I have been playing around with a flint and steel kit now for a while, and have learnt a few things about this traditional fire lighting method that may help others.
(this is a tip from a good friend of mine, Thanks mate)
*I used to use the steel in my dominant hand(right hand for me as I am right handed), striking the steel with the flint(which is in my left hand) and producing spark like that. It was suggested that I swap the kit around, holding the steel in my left hand(off hand for me) and striking the steel with the flint in my right hand, in a downward motion. This allows you to direct the spark far more easily. I place a piece of char cloth down and spark straight onto the cloth.
*another thing I have learned, don't scrimp on the char cloth size, I have found a piece say 4cm square is about the minimum size that is useful. Any small, reduces the time you have to get it into the tinder bundle, but more importantly the smaller the piece the less "heat" you will achieve when you blow the ember into flame. I failed several times in the beginning of my experiments with flint and steel to produce flame because I was scrimping on the size of my char cloth, ending up wasting more char cloth then I originally tried to scrimp on...LoL
here is my flint and steel
and the steel held in my RIGHT hand, I advocate using the steel in your off hand, opposite to this pic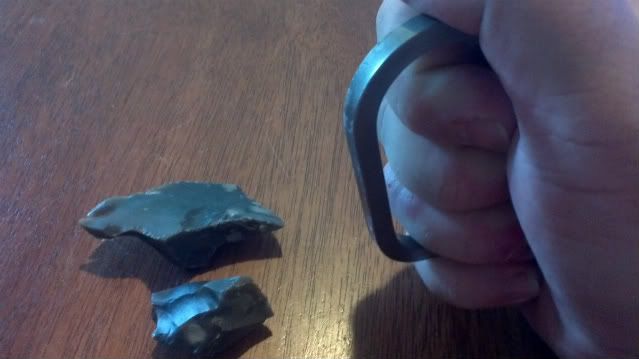 (no pic of me holding the steel in the left hand, not very good at taking pics one handed)
any one else have tips for this fantastic, and traditional fire lighting method?